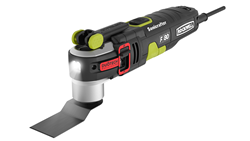 The Rockwell F80 Duotech Oscillation Sonicrafter works harder and faster than any other multi-tool, while also enabling the user to choose the oscillating angle that best fits the job at hand.
Charlotte, N.C. (PRWEB) May 31, 2016
The new Rockwell® F80 Duotech™ Oscillation Sonicrafter® has upped the ante on multi-tool performance by providing a choice of two oscillating angles: 5.0° and 3.4°. Now, users can choose the 5.0° oscillating angle when projects require fast, aggressive cuts for quick results or the 3.4° angle for continuous control.
The versatile F80 Duotech Oscillation Sonicrafter is a one-of-a-kind gift that's sure to brighten Father's Day for any do-it-yourself dad. It works harder and faster than any other multi-tool, while also enabling the user to choose the oscillating angle that best fits the job at hand.
The Sonicrafter F80 can be used at a 5.0° oscillating angle with an end-cut blade to make short work of cross-cutting, ripping or making plunge-cuts in wood and other materials. This option also is handy for trimming doorjambs, clipping nail heads and cutting PVC or metal plumbing pipes. Switch to a 3.4°angle, using a rigid scraper blade, to remove blistered paint, take rust to bare metal or scrape hardened caulk or adhesives. Clamp on a carbide grit semicircular blade to grind grout from between floor or wall tiles.
Cutting speed of the Sonicrafter F80 is five times faster than the basic Sonicrafter RK5121K. The F80 also features the industry's best maximum cutting load of 35 lbs. of force. This means it can be pushed harder than any other brand of multi-tool without stalling the blade.
Housed within the Sonicrafter F80's compact, tapered body is a powerful 4.2 amp motor. The F80 delivers 10,000 to 19,000 oscillations per minute, and incorporates electronic constant speed control that maintains the tool's operation rate under load.
Typically, increasing a multi-tool's oscillating angle can cause movement and vibration. To prevent this unwanted effect, the F80 employs an internal counterweight to offset movement and ensure smooth, accurate cuts.
Rockwell's Universal Fit™, the industry's first true universal accessory system, enables the F80 to accept other major brands' accessories without adapters. Rockwell's universal accessories also are designed to fit all other competitive oscillating tools. This allows consumers to use Rockwell accessories without sacrificing fit or performance.
Sonicrafter oscillating tools feature a spring-loaded centering mount that positively engages accessories with the help of the Hyperlock™ tool-less blade change system.
Hyperlock provides one ton of clamping force to prevent accessory slippage. This is the highest accessory clamping force on any tool-less oscillating tool.
The Sonicrafter F80 comes with 10 Universal Fit accessories, including three 1-3/8" end-cut blades (bimetal, precision and standard), one 3-1/8" HSS semicircle saw blade, one flex scraper blade, one sanding pad and three sanding sheets, plus a hard case. The compact case features separate bulk storage areas for quick and easy access to the tool and accessories. Its rigid, durable construction provides ease of stacking and transport.
The new Rockwell F80 Duotech Oscillation Sonicrafter (RK5151K, $159) is available at Lowes and rockwelltools.com. Rockwell Sonicrafters have a 3 year warranty.
Follow Rockwell through social media links, including, Facebook: https://www.facebook.com/RockwellTools?ref=hl and twitter: https://twitter.com/RockwellTools.