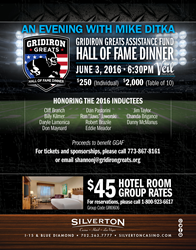 Mike Ditka, Chairman of the Gridiron Greats says, "We are thrilled to host our annual Hall of Fame event in Las Vegas at the Silverton Hotel Casino."
Las Vegas, NV (PRWEB) May 27, 2016
Gridiron Greats Assistance Fund, Inc. will host its annual Mike Ditka Hall of Fame weekend in Las Vegas on June 3-4, 2016, Presented by Premier Stem Cell Institute. The Gridiron Greats Hall of Fame Induction dinner on Friday, June 3rd will be held at the Silverton Casino Hotel, Las Vegas. The dinner will honor players for their outstanding NFL playing careers and their charitable work off the field. On Saturday legends will tee off at Rio Secco golf club.
Sylvia Mackey will present the Sylvia Mackey Woman of the Year award to Chanda Brigance (married to Baltimore Ravens O.J. Brigance). Sylvia's efforts and advocacy have not gone unnoticed. The NFL implemented the 88 Plan (named after her late husband Hall of Famer John Mackey). The plan assists retired players suffering from Dementia, Alzheimer's, Parkinson's and ALS. Chanda knows first hand how Sylvia's efforts have helped her care for her husband O.J. who is battling ALS. Chanda is an incredible wife, mother, friend and advocate.
Gridiron Greats 2016 Hall of Fame Inductees include: Cliff Branch, Robert Brazile, Billy Kilmer, Ron Jaworski, Daryle Lamonica, Don Maynard, Danny McManus, Eddie Meador, Dan Pastorini and Jim Taylor.
Mike Ditka, Chairman of the Gridiron Greats says, "We are thrilled to host our annual Hall of Fame event in Las Vegas at the Silverton Hotel Casino. The Silverton team is second to none and we appreciate the red carpet service they provide. Our Hall of Fame dinner is a great way for us to honor deserving individuals who have done so much helping others. We look forward to playing golf on Saturday at the prestigious Rio Secco golf club and both events will raise much needed dollars so we can continue to help retired players in their families who are in dire need."
We are honored to be the host hotel for the third year in Las Vegas for this significant fundraising event." said Cory Klerk, General Manager of Silverton Casino Hotel.
A special thanks to our sponsors: Premier Stem Cell Institute (Presenting Sponsor), Silverton Casino Hotel Las Vegas, Rio Secco Golf Club, G3 Systems, Camacho Cigars, Terlato Wines, Budweiser, Oakland Raiders, Baltimore Ravens, Ullico, Digital Lizard, Assurex, Silverado, Rudolph Foods, RMD Advertising, Cinespace Film Studios, Premier Athlete Advisors, Deep Eddy Vodka, Slow and Low, Talero Tequila, Liqs, Payroc, and to all of the teams and supporters who purchased tables, program ads and hole sponsorships.
For more information on tickets and sponsorships: http://www.gridirongreats.org/halloffame
Shannon Jordan (773) 867-8161
About Gridiron Greats Assistance Fund
The Gridiron Greats Assistance Fund, Inc. (GGAF) is a Wisconsin nonprofit corporation that has received recognition of federal tax-exempt status as a public charity under Section 501(c)(3) of the Internal Revenue Code. Gridiron Greats mission is to assist dire need retired NFL players who were pioneers of the game and who have greatly contributed to the NFL's status as the most popular sport in America. GGAF provides hands-on assistance to help retired players and their families deal with hardships they face after football. The services include medical assistance, transportation costs for medical evaluations and surgeries, dental assistance, housing assistance, financial assistance for utilities, medication, and coordination of services for food, automotive payments and childcare.
About Silverton Casino Hotel
Silverton Casino Hotel offers 300 deluxe rooms and suites and world-class amenities all located within an upscale, contemporary luxury lodge-themed resort. Silverton Casino Hotel is home to a variety of restaurants and dining options, including the Seasons Buffet, the 24-hour Sundance Grill, Shady Grove Lounge, Twin Creeks Steakhouse, Mi Casa Grill Cantina, WuHu Noodle, Starbucks and Johnny Rockets. In addition to the flagship 165,000-square-foot Bass Pro Shops Outdoor World, Silverton offers 90,000 square feet of gaming with more than 1,500 slot machines and 23 table games, and the Mermaid Restaurant & Lounge which features a 117,000-gallon saltwater aquarium with more than 4,000 sharks, stingrays and tropical fish, which was voted "Best Free Attraction" in the Best of Citysearch®. Silverton is located at I-15 and Blue Diamond in Las Vegas. For more information, please call 702-263-7777 or visit http://www.silvertoncasino.com.