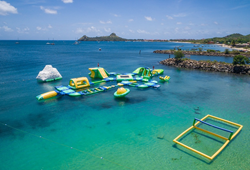 Since its opening in August 2015, Splash Island Water Park has seen over 20,000 patrons and provided countless hours of fun and everlasting memories.
Rodney Bay, Gros Islet (PRWEB) May 30, 2016
The Caribbean's Ultimate Aquatic Playground, Splash Island Water Park, on Reduit Beach, Saint Lucia, has recently been expanded just in time for the summer holidays. With the introduction of three brand new features as well as some changes in the layout of the park, Splash Island can now accommodate up to 90 patrons at any given time and is even more exciting with more features, more challenges and more fun!
One of the new features which was recently introduced is the Curve, a banked corner which requires speed to run through to avoid sliding off. Park patrons have also been thrilled with the addition of Wibit Sports' newest feature, the High Roller, which requires a combination of speed and balance to climb, run or crawl across. The newly introduced Balance Beam will test park patrons' balance or skills at face to face competition.
The park was conceptualized in March of 2015 by Bay Gardens Resorts Director, Julianna-Ward Destang, a Chartered Accountant turned award winning entrepreneur, whose desire and vision was to bring a novel, fun and safe attraction to her native island of Saint Lucia. Splash Island has completely transformed the atmosphere on the island's most popular beach, Reduit Beach in Rodney Bay Village. It opened on August 1, 2015 and saw 1,300 patrons just in its opening week. Since then, Splash Island Water Park has seen over 20,000 patrons and provided countless hours of fun and everlasting memories.
The Caribbean's first floating, inflatable sports park features over a dozen features including the monkey bars, the Ice Berg XXL, the action tower and climbing wall, the cliff, a trampoline, volleyball court, hurdles, wiggle bridge, the spinner, the double rocket, and the three brand new features: the Curve, the Balance Beam and the High Roller.
The Water Park is staffed by a team of certified and experienced lifeguards and administrative staff who make sure to comply with the strictest of European safety requirements. All users of the park (who must be 6 years of age or older) are required to wear life vests, irrespective of their swimming abilities.
It is located at Bay Gardens Beach Resort and Spa in front of the very popular Seagrapes Beach Bar and Restaurant, which features local and seafood dishes by Bay Gardens Beach Resort's very own Gold Medal Winning Chef Peter Lawrence. Seagrapes features a relaxed "barefoot on the beach" atmosphere and breathtaking views of Pigeon Island National Landmark.
Splash Island Water Park is open 7 days a week (including holidays) from 9 a.m. to 6 p.m. with rates starting at US $11.50 for one hour of fun, offering incredible value for money for an unforgettable experience.
For more information, updates and to get in on all the excitement, visit http://www.saintluciawaterpark.com and http://www.facebook.com/stluciawaterpark
About Splash Island Water Park St. Lucia
Located on the Northwest coast of St. Lucia, on the popular Reduit Beach, Splash Island is the Caribbean's first open-water sports park. Splash Island is located in front of the multi-award-winning Bay Gardens Beach Resort & Spa located in Rodney Bay Village, Gros Islet, St. Lucia and is an inflatable water park where kids, families and weekend warriors alike can enjoy the many obstacle-course style features. The park is manufactured by Wibit Sports GmBH, a German watersports company who has been producing commercial grade inflatable water sports products for over 18 years, and features include a trampoline, climbing wall, monkey bars, a swing, a slide, hurdles, double rocker, flip, and water volleyball.