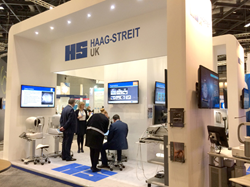 The RCO Annual Congress is always a key event for HS-UK, offering us the opportunity to showcase our extensive product portfolio. The 2016 meeting has been another great success, enabling us to meet with valued Haag-Streit UK customers.
Harlow, Essex (PRWEB UK) 27 May 2016
Haag-Streit UK (HS-UK), the leading manufacturer and distributor of gold-standard optometry and ophthalmic equipment, exhibited at the Royal College of Ophthalmologist's (RCO) Annual Congress 2016 on the 23rd -26th May at the ICC, Birmingham. The show was very successful for HS-UK, with particular interest in the AngioVue OCT-A system and the Eidon wide-field confocal scanner.
The AngioVue OCT-A system is capable of imaging and displaying the structure and function of the ocular microvasculature, through a non-invasive procedure. Unlike traditional fluorescein angiography, the procedure can be performed in every day clinical practice and repeated as often as required, with no risk to the patient.
The Eidon is the first wide-field, true colour confocal scanner with infrared and red-free imaging, as standard. Boasting a 60° field in a single exposure and a wide-field of up to 150°, it provides unsurpassed image quality, a unique, live confocal view of the retina, three different imaging modalities and dilation-free operation.
Other products exhibited at the show included; the Lenstar biometer, Haag-Streit Surgical Hi-R NEO 900 microscope, Octopus 900 perimeter and the recently-launched BI900 slit lamp.
Sharon Mills, HS-UK Marketing Manager, said "The RCO Annual Congress is always a key event for HS-UK, offering us the opportunity to showcase our extensive product portfolio. The 2016 meeting has been another great success, enabling us to meet with valued Haag-Streit UK customers."
For future information regarding HS-UK products, contact Haag-Streit UK on (01279) 883807, email info(at)haag-streit-uk(dot)com or visit http://www.haag-streit-uk.com