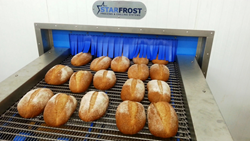 Starfrost has over 30 years' experience in the bakery sector, providing energy efficient solutions to help processors improve product quality.
London, UK (PRWEB) May 31, 2016
A leading frozen bakery supplier, Gilsons specialises in traditional loaves, artisan bread, rolls and sweet buns. Gilsons supplies major retailers and foodservice customers across the UK with a wide range of fully and par-baked frozen bakery products.
Gilsons' state-of-the-art processing plant is based in Kettering, Northamptonshire. A continual programme of investment in facilities and equipment has enabled the firm to introduce new bakery lines and develop capacity.
Gilsons was recently looking to boost processing capacity on two bread production lines. The bakery firm also wanted to upgrade from a manual blast freezing process by investing in a fully automated freezing system.
British equipment specialist Starfrost designed, built, installed and commissioned two bespoke spiral freezing systems for Gilsons. Starfrost's Helix Spiral freezers have enabled Gilsons to fully automate two processing lines, boost capacity and improve product quality.
The first Helix Spiral was designed for freezing baked bread rolls, with a processing capacity of 1,400kg/hr. It features a 32-inch wide stainless steel conveyor belt around a single rotating drum, with 26 spiralling tiers.
The second system is a flexible multi-temperature double drum Helix Spiral, featuring a forced air ambient cooler and a dual purpose freezer/chiller for baked bread loaves. It features two 12.5-tier drums with a 38-inch wide stainless steel belt and has total processing capacity of 1,950kg/hr.
In the double drum system the product is cooled using forced ambient air as it is conveyed around the first drum. The cooled bread loaves then enter a separate enclosure for final freezing on the second drum. The system is designed to give Gilsons maximum flexibility, by using the second drum for product chilling or freezing.
Starfrost Sales Director Robert Long says: "We won the tender for this project based on our ability to design a highly flexible freezing system in line with the client's budget. Starfrost has over 30 years' experience in the bakery sector, providing energy efficient solutions to help processors improve product quality."
He adds: "If bakery products are frozen too quickly from a high temperature, surface cracking can appear and this affects product quality and appearance. Our engineering team designed a system to accurately control temperature and retention times. This ensures optimum product quality for Gilsons and its customers."
Starfrost's Helix Spiral is suitable for freezing and chilling food that requires medium to long retention times, such as bakery products, ready meals, poultry, pizza, potato products, fish, desserts and ice-cream. The system is available in site built and compact assembled format, with single drum, double drum and twin belt designs. Available with a range of belt sizes and tier heights, it can process from 500kg/hr, to capacities over 6,000kg/hr.
Starfrost is an international market leader in bespoke freezing and chilling systems, working with food manufacturers in more than 50 countries worldwide. The firm recently celebrated three decades at the forefront of innovation in IQF technology and relocated its UK headquarters to a brand new, purpose built facility in Suffolk.
Starfrost's bespoke freezing and chilling equipment is designed to offer food processors a cost effective and flexible solution. Increasing production, improving hygiene, boosting energy efficiency and offering maximum return on investment are all key aspects of the Starfrost service.
Starfrost equipment is custom designed and built at its UK manufacturing facility. The company's freezing and chilling range includes Spiral Systems, IQF Fluidised Tunnels and Contact Freezers. For more information visit: http://www.starfrost.com.