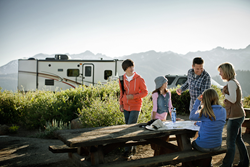 "Consumers seeking to explore the RV lifestyle often look to rentals as their first step. Renting provides a tremendous opportunity. . . to introduce people to the benefits of RV use," said RVRA Chairman Scott Krenek of Krenek RV Rentals in Coloma, MI
Fairfax, VA (PRWEB) May 29, 2016
Summer vacations and the family travel season are on the horizon and consumers renting RVs are booking more nights in a row, increasingly looking for more sleeping areas per unit, and fueling plans by rental agents to increase their fleet sizes and offer more services consumers ask for, including delivering towable RVs to where they will be used.
Modest gains in revenue, longer term contracts, and more agencies planning to add units to their fleets all point to an RV rental market that is growing in popularity, according to an industry survey by the Recreation Vehicle Rental Association. RVRA has an online search engine at http://www.rvra.org to help consumers to find rental agencies by dealership name, zip code, or city and state.
"Consumers seeking to explore the RV lifestyle often look to rentals as their first step. Renting units provides a tremendous opportunity for our industry to introduce people to all the benefits of RV use," said RVRA Chairman Scott Krenek of Krenek RV Rentals in Coloma, MI.
The average length of rental contracts, whether for family vacations or groups of friends, took a sharp upward turn in 2015 with 70 percent of contracts spanning 4-7 days in length, versus 20 percent the prior year. In 2014, three night contracts represented nearly half of all RV rentals. When they're out on a road trip, the number of sleeping areas consumers want in a unit climbed slightly, with most (72 percent) asking for between four and six sleeping areas per unit versus 69 percent in 2014.
Rental agencies also report a shift in the type of vehicles in use, with 45 percent of respondents planning to add towable units to their fleets in greater numbers than Class C motorhomes, the primary type of unit rented by big fleet/multi-location rental agencies. The trend of delivering towable RVs to a site for the consumer has grown in popularity for this unique type of vacation rental, with 78 percent of rental agencies offering this service, up from 66 percent the prior year.
The survey of rental agents was conducted in the spring of 2016 by the RV Rental Association (RVRA), a national association of companies that rent RVs to consumers. Sixty-two companies responded.
RVRA is a unit of RVDA, and the survey was conducted through the RV Retailer Intelligence program, a service of the RV Assistance Corp. (RVAC), a wholly-owned subsidiary of RVDA. For more information on RVs visit http://www.rvda.org, http://www.rvra.org, or http://www.gorving.com.
CONTACT:
Julianne Ryder
RV Rental Association
3930 University Drive
jryder(at)rvda(dot)org
(703) 591-7130 x111