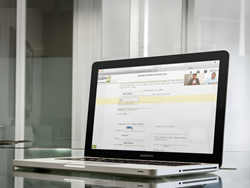 Remote eNotarization not only converts the traditional process of notarization to a completely electronic one, it also strengthens security.
CHATTANOOGA, Tenn. (PRWEB) May 31, 2016
SIGNiX, the leading provider of Independent E-Signatures™ and remote electronic notarization, announced today that firm leaders will participate in the National Notary Association's (NNA) 38th Annual Conference and serve on two panels discussing technology developments with eNotarization. The conference will be held at the Hyatt Regency Orange County in Garden Grove, CA, June 5-8, 2016.
SIGNiX's director of business development, Brian Felker, will serve as a panelist to discuss "What's New with eNotarization". Brian will also demonstrate SIGNiX's eNotary product during a special presentation in the Exhibit Hall.
SIGNiX's executive vice president, Pem Guerry, will also attend the conference as a panelist during the closing general session titled, "Is Video Notarization the Next Big Thing?" The session will include a demonstration of SIGNiX's video notarization solution. "The time has come for the notary profession to consider this technology," said Guerry. "Remote eNotarization not only converts the traditional process of notarization to a completely electronic one, it also strengthens security because it uses third-party databases to verify the identity of the signer, prevents document alteration and captures a comprehensive audit trail combined with audio/video evidence of the signing and the notarial act. I'm thrilled to have the opportunity to highlight this new alternative for the notary profession during the conference."
SIGNiX's eNotaryDoX provides a secure remote or in person electronic notarization service. It not only uses standards-based digital signatures that protect the document from tampering, it also offers TotalAudit™, a highly detailed record of the signature and notary process itself. In addition, SIGNiX enables strong, multi-factor authentication options like knowledge-based authentication to positively verify the identity of remote signers.
Every year, the NNA's annual Conference brings together hundreds of Notary professionals from around the country, who work in a multitude of industries, for an unparalleled networking and educational experience. The conference features hands-on workshops and open-forum discussions from experts across the country, engaging keynote sessions, and networking opportunities spanning multiple professions – all designed to help attendees succeed in their role as a Notary, avoid liability and protect the public. For more information on registration for the Conference, visit https://www.nationalnotary.org/conference/general-info/registration-info. You can also follow the conference on LinkedIn, Facebook and Twitter using #NNA2016.
About SIGNiX:
SIGNiX, the most trusted name in Independent E-Signatures™, makes signing documents online safe and secure with comprehensive legal evidence permanently embedded in each document to eliminate any dependence upon SIGNiX. The company's cloud-based service uses patented technology to give businesses and organizations the most secure and legally defensible e-signatures available at a fraction of the cost of wet ink signatures. SIGNiX's products help the world's leading companies become more efficient, decrease risk and boost profits.
For more information, visit http://www.signix.com. You can also follow SIGNiX on Twitter @signixsolutions, LinkedIn, Facebook and Instagram.
About the National Notary Association:
Established in 1957, the National Notary Association (NNA) is the leading professional authority on the American Notary office and is dedicated to educating, serving and advocating for the nation's 4.4 million notaries. It published the Model Notary Act to help lawmakers enact effective legislation and created The Notary Public Code of Professional Responsibility, a standard for best practices and professional conduct. To learn more, visit NationalNotary.org.