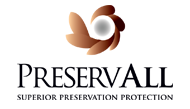 Branchburg, NJ (PRWEB) May 27, 2016
PreservALL (http://www.preservall.com/) is excited to add quilt and coin preservation bags with Intercept Technology™ to their product lineup.
"PreservALL uses the same Intercept Technology as we use in our wedding dress and gun preservation bags," said company partner Chris Della Valle with excitement. "Our quilt bags are available in polyester, or in our premium fabric bags coated with corrosion intercept liquid inside. Our coin bags, made with corrosion intercept polymers, come in a variety of zip-lock sizes."
This is great news for those looking to perverse historically-significant items such as rare coin collections, or a hand-stitched family heirloom quilt.
Fabrics can break down over time thanks to corrosive gasses, sun exposure, mildew, moisture, insect infestation and mold. Now, thanks to PreservALL, you don't have to constantly head into a dusty attic or storage unit to ensure great-great-grandma's hand-stitched quilt is in good condition. The patented Intercept Technology inside the quilt's storage bag absorbs and neutralizes harmful gasses while protecting the item(s) from fading, dust and moisture.
The coin storage bags come in convenient sizes so it doesn't matter if there is just one coin or an entire collection to preserve. The collection stays in mint condition thanks to the anti-corrosion technology incorporated in PreservALL's coin bags.
PreservALL looks forward keeping important items in their best condition for future generations to enjoy.
To learn more preservall.com/Quilts-Storage-Bags and preservall.com/Coins-Storage-Bags
About PreservALL
We offer preservation and corrosion prevention packaging and storage products for garments, firearms, documents, quilts/tapestries, hunting and camping equipment, coins, antiques and collectables. Our products use Intercept Technology™, an environmentally friendly technology that does not coat items or leave detectable deposits on items it protects. Intercept is not a VCI (volatile corrosion inhibitor). Intercept is a reactive technology unlike other products that work passively. Intercept absorbs and neutralizes corrosive gasses that lead to corrosion and breakdown of materials such as fabrics, ferrous and non-ferrous metals, stamps, comic books, documents and anything else affected by atmospheric degradation.
Contact Details:
Mr. Chris Della Valle
600 Kenrick Dr., Suite C-40
Houston, TX 77060
Ph: (713) 822-9040
Fax: 908-526-0007
Source: PreservALL
###