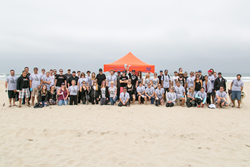 We live and work along this beautiful coastline. It is our duty to keep it clean and protected
San Diego, CA (PRWEB) May 31, 2016
The Control Group will team up with I Love A Clean San Diego for their 4th annual beach cleanup day. The cleanup will take place on Friday, June 10th from 10am-12pm, on Pacific Beach/Mission Beach starting in front of World Famous Restaurant. This year's cleanup will be a collaboration with local tech companies Launchboom and Proper Media as a lead in to San Diego Startup Week taking place June 13th to the 17th.
Through outreach, community involvement and example, I Love A Clean San Diego leads and educates the community to actively conserve and enhance the environment. The Control Group began their partnership with I Love a Clean San Diego in September 2013. During their first beach cleanup, TCG collected over 70 pounds of trash along a one mile stretch of beach between Crystal Pier and North Mission. The event was such a success that it became an annual affair. "We live and work along this beautiful coastline. It is our duty to keep it clean and protected," says Tischa Culver, PR and Communications Specialist for The Control Group.
In 2015, 33,000 I Love A Clean San Diego volunteers removed nearly half a million pounds of litter from San Diego County's beaches, bays, canyons and parks. TCG maintains a passionate and extremely active corporate social responsibility program. The company supports a multitude of organizations and charities, both in the local community and nationwide.
A list of some of the organizations that The Control Group has recently supported includes Hoover High School AOIT, Clairemont High School AOB,The O'Farrell Charter School, San Diego Regional EDC, Junior Achievement of SD, International Rescue Committee, Helen Woodward Animal Center, Friends of Downtown, Together We Bake, and Power Scuba.
*******************
About The Control Group
Created in 2011, The Control Group is one of the fastest-growing technology companies headquartered in San Diego. Their expertise is in web development and internet marketing. The company is the developer of InstantCheckmate.com, one of the top people search engines in the world. Because the company is already profitable, it has been able to develop a company culture that is shaking up the Southern California business community. Core to the company culture is its reach into the community to make a positive impact by volunteering and getting involved in important causes.
About Launchboom
LaunchBoom partners with companies to launch new, innovative products through crowdfunding. With a perfect track record delivering successful campaigns, LaunchBoom has raised millions of dollars with their product launches. See if you qualify at http://www.launchboom.com
About Proper Media
Proper Media is an independently owned digital media company that provides revenue management, monetization, and advertising technology solutions to web publishers. Each month over 34 million unique readers rely on Proper's owned & operated domain portfolio for access to the news, politics, entertainment, & pop-culture content they love.