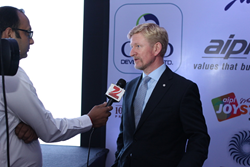 We feel that the Indian real estate market is one of huge promise...
New Delhi, India (PRWEB) June 06, 2016
JNB Group and BridgeStreet Global Hospitality, the leading solution for international serviced apartment experiences, announce new partnerships with three of India's leading real estate developers; IDI, AIPL and CHD. This collaboration will provide quality assurance, marketing and global sales benefits for guests, developers and investors, bringing over 300 serviced apartments to the region.
"This collaboration is key to BridgeStreet's development of franchise and management opportunities," said Sean Worker, president and CEO of BridgeStreet Global Hospitality. "We are working together with JNB to build further investment and development projects in India and we plan to have 5000 full-operational units within five years in Pan India—adding to the 50,000 BridgeStreet units worldwide."
JNB and BridgeStreet's relationship began in 2012, when the companies started working together in India. "We feel that the Indian real estate market is one of huge promise, as there is little in terms of supply of serviced apartments. Increasing demand from IT, consulting, banking, financial and automobile sectors will only create more opportunities. What is required is the right branding, quality assurance and on-time delivery. This will not only lead to price appreciation, but will also ensure growth," said TJ Barring, president of JNB Group.
BridgeStreet has taken an approach to build long term relationships with Indian real estate and business communities. With Pan India at the forefront of the Asian development strategy, BridgeStreet's positioning will help grow the evolution of the serviced apartment sector in India. Agreements are already in place with developers like Silverglades, V Square, Homestead and Logix for 1,600 units in Delhi and the National Capital Region of India, which will have 500 functional units by the end of 2016.
"We are very excited to introduce serviced apartments into our portfolio," said Guava Mittal, managing director of CHD Developers limited. "Indians today are well travelled and well informed. They know about emerging lifestyles and trends abroad and aspire to have them in India too," he said. Our alliance with JNB Management and BridgeStreet for our project 106 avenue, Guragon will help us cater to the needs and aspirations of this niche yet evolving segment."
BridgeStreet's industry-leading family of brands includes six distinct serviced apartment experiences ranging from six- to two-star products offering the convenience of apartment living with a variety of service packages to match guest needs based on location, price point and individual preferences. The same experiences will be replicated in India.
"We are delighted to partner with JNB Management and BridgeStreet to manage serviced apartments at our commercial venture, AIPL Joy Street, Gurgaon," said Daljeet Singh, Director of Advance India Projects Limited. "BridgeStreet brings to the partnership a proven track record of providing hospitality services around the globe and we look forward to working closely with JNB and BridgeStreet to make this a very successful venture for an organized serviced apartment sector in India."
With these new partnerships, JNB and BridgeStreet will be co-branding a total of 319 apartments: 183 units of IDI in Noida, 100 units of AIPL in Sector 66A, Gurgaon and 36, 4BHK units of CHD in Sector 106, Gurgaon. "We sincerely welcome JNB Management and BridgeStreet Global Hospitality to associate with us at 'IDI Mart' and partner together for the success of the project at Noida extension, the upcoming flagship township of Delhi NCR," said Dheeraj Arora, managing director of IDI Group.
"The benefits of JNB Group and BridgeStreet are regular rental income, high occupancy, fully-furnished apartments with contemporary décor, well-equipped kitchens to prepare your own meals, personal service with 24/7 emergency support, convenient monthly invoice that includes utilities and housekeeping, Internet access and concierge service," said Taran Kaur Chhabra, director of JNB Group. "Pure commercial and residential projects won't do well in the coming years, a hybrid version, which supports serviced apartments would have a much higher demand."
About BridgeStreet Global Hospitality
With more than 50,000 apartments in over 60 countries, BridgeStreet Global Hospitality – comprised of seven unique brands – is the leading hospitality solution offering serviced apartment experiences for travelers seeking an alternative to typical hotel accommodations. BridgeStreet's family of brands includes six-star Exclusive, five-star Residences, four-star Mode Aparthotels and Living, three-star Places and two-star Stüdyo offering the convenience of apartment living with a variety of service packages to offer each guest options based on location, price point and individual needs. For students, BridgeStreet offers Link Student Living, student accommodation experiences. Widely recognized for uncompromising standards of quality, comfort and service, BridgeStreet Global Hospitality is a renowned award winner in both the Americas and EMEA (Europe, the Middle East and Africa). For more information on BridgeStreet Global Hospitality, please visit bridgestreet.com or call 800 278 7338.
About JNB Group
JNB Group, LLC (JNB) is a privately owned real estate investment and development consortium headquartered in Cerritos, CA with liaison offices in UK, Indonesia and Canada. JNB through its affiliates has various investment projects in California and Arizona and JNB Management also owns and/or manages hotels, spas, retail centres, office and apartment buildings in the United States and India. JNB through its affiliates has developed, acquired, underwrote, sourced capital, managed and sold more than 4 billion dollars of commercial and residential projects in the United States and India.