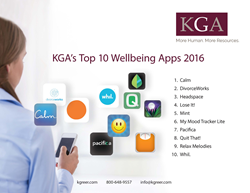 Mobile apps can provide an excellent adjunct to counseling, particularly when dealing with crisis intervention
Framingham, MA (PRWEB) July 22, 2016
Mobile health and wellbeing applications are increasingly being used as an adjunct to personal counseling, according to a new article by Kathleen Greer in the Journal of Employee Assistance (2nd Quarter, 2016 edition).
Both clinical and non‐clinical apps are highlighted in the cover story by Greer, Founder and Chairman of KGA, Inc., a leading Employee Assistance and Work‐Life firm. Greer cites a number of reasons for the growing acceptance of mobile solutions as an Employee Assistance resource, including convenience and an increased reliance on smart phones and tablets.
"Mobile apps can provide an excellent adjunct to counseling, particularly when dealing with crisis intervention and short‐term issues," says Greer. "For example, they can be used to record thoughts and behaviors between counseling sessions or as a delivery mechanism for relaxation techniques. We are just beginning to tap their potential."
In addition to non‐clinical applications for mental health awareness, weight loss, and meditation, the article highlights several mobile apps currently undergoing clinical trials, including apps for depression, social anxiety, PTSD and bipolar disorder.
"By 2020, millennials will make up the majority of the workforce, increasing the importance of mobile apps," says Seth Moeller, KGA President, "Millennials want the convenience and availability that an app provides so they can get the help they need on their terms. It's critical for EAPs to familiarize themselves with what is out there."
To that end, KGA has selected the Top 10 Health and Wellbeing Apps for 2016, all of which are detailed in the Journal story. They include apps for weight loss, mindfulness, quitting unhealthy habits such as smoking, mood tracking – even guidance through divorce. The full Journal of Employee Assistance article, entitled Apps are Growing in Importance, can be found here. Additional information is available at kgreer.com and 800‐ 648‐9557.
About KGA, Inc.
Founded in 1982, KGA is a leading Employee Assistance and Work‐Life firm that helps organizations create and sustain healthy, engaged and productive workforces. The firm's services are tailored to each client's distinct needs and include a robust Employee Assistance Program (EAP) and Work Life program, training, crisis management, wellbeing services and other essential HR solutions. With an emphasis on integrity, responsiveness and respect, KGA proudly serves more than 100 organizations across a wide range of industries, supporting hundreds of thousands of employees and family members nationwide and around the globe.