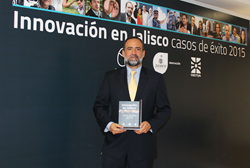 Our constant contact with the US markets shows us not only the technology trends but also it set the pace of the speed of adoption. It also allow us to realize that in Mexico the speed of adoption or identifying technologies is slower. Through that we saw
Guadalajara, Mexico (PRWEB) June 08, 2016
Last week, the secretary of Innovation Science and Technology, Jaime Reyes, presented the book "Innovation in Jalisco, Success Stories 2015" a compilation of 16 projects that have been supported by the SICYT through different government programs. iTexico was featured in the book for their project on cloud infrastructure and development of solutions specifically designed around the benefits of decentralized computing, guidance of social networking, mobile technologies, apps behavior analysis and cloud computing (SMAC).
The book seeks to strengthen the state of the technology industry in Mexico and create national and international awareness, specifically for Jalisco, the state with the most growth in the technology industry. The book features success stories from Mexican companies that are establishing themselves in the global technology industry and making a significant impact on Mexico's economy.
iTexico's COO, Guillermo Ortega, was interviewed by the book's publisher at the end of September 2015 to talk more about the innovation of iTexico's projects and the development process. According to Ortega, there are four elements within iTexico: Innovation Project, Talent, Delivery, Cooperative Government and Commercialization & Marketing.
"Our constant contact with the US markets allows us to not only track technology trends, but it also it sets the pace for the speed of adoption. It also allow us to realize that, in Mexico, the speed of adoption or identifying technologies is a bit slower. Through this we saw an opportunity to implement SMAC solutions." said Guillermo Ortega.
About iTexico
iTexico is a global software technology company that helps clients build and support mobile and fullstack software solutions by leveraging nearshore agile expert teams in US and Mexico at a competitive price. The company has a team of over 120 expert professionals in Austin and Mexico that have worked with with more than 100 clients in US and Canada. In 2015, iTexico was ranked number 188 on Inc. 500 and Number 11 on Austin Fast Fifty.