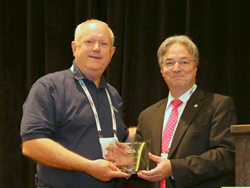 Ledbetter is an excellent businessman who is not afraid to take a chance, nor too proud to admit when something is not working.
Portage, Michigan (PRWEB) June 01, 2016
NETA, the InterNational Electrical Testing Association, presented Finley Ledbetter, CEO of Group CBS, Inc., with its prestigious Alliance Recognition Award at the association's recent PowerTest 2016 conference in Fort Worth, Texas.
The Alliance Recognition Award is NETA's way of honoring worthy contributors to the electrical testing industry. Finley Ledbetter has not only been a dedicated supporter of NETA and the work of the association, but also he has furthered the industry and inspired others to do the same.
In addition, Ledbetter is recognized for his ability to achieve personal success, take good care of employees and customers, and still have time to devote to making the industry stronger. He accomplished much of his work for the industry as a long-time supporter of NETA, including presenting and sponsoring at PowerTest as well as authoring articles.
"I've come to all of the NETA conferences since the second one in 1977," Ledbetter says. "I started as one of the youngest, and now I'm one of the oldest."
In presenting the NETA Alliance Recognition Award, Jim Cialdea, Owner and CEO of 3-C Electrical Company, emphasized Ledbetter's role in establishing the used equipment market. "Finley worked to take the used equipment industry to a higher standard of quality," Cialdea said. "He was one of the first to put time, effort, and money into developing the procedures that redefined the reconditioned, remanufactured industry. He is a guy you can count on, someone who puts 150 percent into everything he does."
Ledbetter has worked in power engineering for 35 years. He graduated with a degree in electrical engineering from the University of Texas, Arlington. While still in college, he interned at Multi-Amp Institute and was hired by the firm upon graduation, serving as an applications engineer and instructor. From there he went to Round House and then on to Shermco Industries where he was instrumental in founding Shermco Engineering Services Division, which later became a NETA Accredited Company.
In 1982, he became a founding partner in Group CBS, Inc. and currently leads 17 Group CBS companies. His flagship company — Circuit Breaker Sales Co. Inc. — is a NETA Corporate Alliance Partner. Ledbetter has started and sold more than 40 companies, including well-known organizations like Instel and Sentinel Power Services.
He is a member of IEEE and a charter member and past president of Professional Electrical Apparatus Recycler's League (PEARL), bringing to the organization the quality standards he had already established at his own company.
Bill Schofield, president of Circuit Breaker Sales, has worked for Ledbetter for 18 years. Schofield says Ledbetter is an excellent businessman who is not afraid to take a chance, nor too proud to admit when something is not working. He says Ledbetter is known for hiring talented people and giving them the freedom to champion their own segments of the business.
Schofield emphasizes that Ledbetter is constantly thinking of new and innovative ways to approach industry challenges. "There is no other equivalent individual who puts as much energy, effort, and brainpower into the industry as Finley does," Schofield said.
ABOUT NETA
NETA is an ANSI Accredited Standards Developing Organization that creates and maintains standards for electrical maintenance and acceptance testing for electrical power equipment and systems, as well as a standard that addresses the certification of electrical testing technicians. NETA is an association of leading electrical testing companies comprised of visionaries committed to advancing the industry standards for power system installation and maintenance to ensure the highest level of reliability and safety.