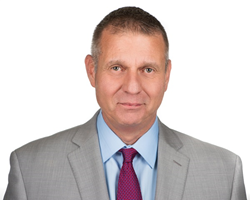 Bensenville, Ill. (PRWEB) May 31, 2016
OSM Worldwide, a leading provider of domestic and international parcel delivery solutions, today named James Bishopp the new vice president of its information technology department. Bishopp will plan the future of information technology for OSM, including the development and implementation of organizational informational systems, software applications and IT infrastructure systems.
Bishopp brings more than 25 years of experience in information technology within the finance, insurance, banking, mortgage, travel and manufacturing industries. Most recently serving at Third Wave Business Systems and ABN AMRO, Bishopp's prior positions involved designing and implementing CRM solutions, managing budgets and operations, and improving IT processes. According to Gaston Curk, CEO and co-founder of OSM Worldwide, OSM will benefit from Bishopp's track record in managing intricate IT systems and complexities between systems.
"We're extremely excited to have someone with such a wide range of experience join our organization," Curk said. "James has the knowledge and expertise to diversify our team and put us on a continuous path for growth using IT as an essential factor."
At OSM Worldwide, Bishopp will implement new systems and continue the advancement of technology platforms, enabling the company's ability to consistently provide exceptional parcel delivery experiences to its customers worldwide. Bishopp's goal is to ensure maximum uptime, stability and security for all OSM networks. His priority will be optimizing OSMART, OSM Worldwide's proprietary shipping technology. OSMART increases efficiency for clients by consolidating elements of logistics operations in one place, resulting in cost savings while simultaneously increasing the level of customer service.
"I'm honored to accept a new position with OSM Worldwide," Bishopp said. "OSM has more than a decade of continuous growth under its belt, and its IT department has done a commendable job keeping up with that growth. I'm excited to bring my own knowledge to the team and continue advancing the organization."
With a wealth of hands-on experience in technical infrastructure, IT governance, quality assurance, network engineering and operations, and software development, Bishopp is uniquely qualified to manage the complexity of OSM's technology operations. Bishopp holds a Bachelor of Arts in business administration from Illinois Wesleyan University and is pursuing his MBA at Southern New Hampshire University.
OSM Worldwide delivers cost-effective and reliable residential packages and parcel delivery, among other mailing services, to more than 200 countries and territories worldwide. Its consultative approach, combined with a variety of available shipping options, provides effortless and cost-effective shipping services. To learn more about OSM Worldwide and its services, click here.
About OSM Worldwide
OSM Worldwide is a leading provider of domestic and international parcel delivery solutions that reach millions of addresses nationwide and around the globe. Only OSM Worldwide features the award-winning OSM Premium Network, which is capable of shipping packages nationwide within 1-5 days, reliably and economically. A recognized preferred shipping partner of the USPS and recipient of the USPS Mail Solutions Award, OSM Worldwide also has global partnerships with major postal authorities all over the world. Businesses that partner with OSM Worldwide enjoy a variety of delivery options, economical shipping solutions, and expert, responsive customer service.