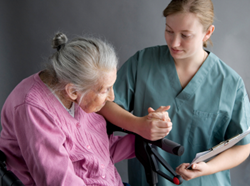 When you work in a profession where you deal with trauma and death, you need to be able to cope with the emotions that arise as a result, and this is where EQ also plays a major role.
Montreal, Canada (PRWEB) May 28, 2016
Doctors need to walk a very delicate emotional line. Whatever feelings they experience in the process of taking care of patients, they must maintain a degree of objectivity in terms of their own emotional responses, but at the same time show sensitivity, tact and compassion in speech and demeanor.
Emotional intelligence (EQ) plays a crucial role in the care of patients, and their families as an extension. Research from Psychtests.com suggests that medical practitioners who possess strong EQ may be in a better position to provide more well-rounded care to their patients, and to maintain their own psychological well-being.
Analyzing data from 943 medical practitioners who took their Emotional Intelligence Test, researchers at PsychTests divided doctors in their sample based on performance rating, and compared "Excellent" performers to those whose performance was only rated as "Acceptable." PsychTests study reveals significant differences on several EQ competencies, including:
(Note: Scores run from 0 to 100; the higher the score, the stronger the skill/competency)
Resilience
Score for excellent doctors: 77
Score for acceptable doctors: 59
Excellent doctors are able to cope with and overcome challenges, setbacks, and hardships with relative ease. They bounce back quickly from difficult circumstances.
Conflict-Resolution Skills
Score for excellent doctors: 79
Score for acceptable doctors: 63
Rather than trying to avoid conflict situations, excellent doctors face them head on, and strive to find a solution that benefits everyone involved.
Emotional Self-Awareness
Score for excellent doctors: 64
Score for acceptable doctors: 49
While etiquette might dictate that doctors maintain a stoic demeanor, excellent doctors do not distance themselves from their emotions. They are in touch with their feelings and allow themselves to fully yet mindfully experience their emotions, be they positive or negative.
Positive Mindset
Score for excellent doctors: 73
Score for acceptable doctors: 59
While they may acknowledge the negative aspects of a situation or person, excellent doctors strive to find the silver lining in every circumstance they face, even if it's just a lesson learned.
Self-Motivation
Score for excellent doctors: 72
Score for acceptable doctors: 58
Challenging situations and obstacles do not deter excellent doctors. They are highly self-motivated and are able to find inspiration from within to push them through difficult times.
Social Insight
Score for excellent doctors: 89
Score for acceptable doctors: 76
Both groups of doctors have a strong grasp of human nature, but the ones rated as Excellent posses social insight to larger degree. They are able to read people, see the world from their perspective, and are capable of taking context into consideration when making judgments about other people's emotions, actions, or motivations.
Self-Control
Score for excellent doctors: 72
Score for acceptable doctors: 58
Excellent doctors are fairly skilled at maintaining their composure. Even in challenging circumstances, they strive to display professionalism at all times. This doesn't mean that they repress what they are feeling – rather, they are able to find healthy ways to regulate and release their emotions.
Comfort with Emotions
Score for excellent doctors: 66
Score for acceptable doctors: 54
Despite the frequent need to face highly emotionally charged situations (e.g. debilitating diseases, challenging medical decisions, difficult patients or family members, grief, death, and dying, etc.), excellent doctors do not skirt around touchy or sensitive topics. They are generally at ease with emotional situations, people, and feelings in general. They understand that emotions are part of the human experience.
Values Integrity
Score for excellent doctors: 80
Score for acceptable doctors: 69
Having values is not enough – a person needs to be able to stand by those values in situations where his or her principles are put to the test. Excellent doctors live their life according to a strict code of ethics, and will not cast aside their morals to please others or for personal gain.
Awareness of Strengths and Limitations
Score for excellent doctors: 77
Score for acceptable doctors: 67
Excellent doctors do not suffer illusions of grandeur. They take pride in their strengths but also recognize their limitations, and are not afraid to admit when they're wrong and when they need improvement.
"The very essence of medical practice is offering care, and it's this 'care' aspect that is so crucial to patient well-being," explains Dr. Jerabek, president of PsychTests. "Patients are more than a broken bone or disease, and while stereotypes might paint doctors as cold, clinical, and business-like, I think more and more of them are recognizing the importance of being emotionally accessible to patients. Bedside manners dictate the need to be empathetic and compassionate. When patients and their families are going through a rough time, they need a doctor who will do more than just dish out medical facts and treatment protocols: They need someone who understands how they are feeling, and can navigate highly charged situations. Understandably, this isn't easy, but doctors with strong emotional intelligence seem to be able to do this naturally and effortlessly."
"While our study reveals the potential benefits of strong EQ in terms of the interpersonal aspect of medical practice, being able to handle emotional situations and people also contributes to doctors' own emotional, psychological, and even physical well-being. When you work in a profession where you deal with trauma and death, you need to be able to cope with the emotions that arise as a result, and this is where EQ also plays a major role."
Want to assess your EQ potential? Check out http://testyourself.psychtests.com/testid/3038
Professional users of this test can request a free demo for the MEIQ-R7 (Multidimensional Emotional Intelligence Quotient, 7th revision) or any other assessments from ARCH Profile's extensive battery: http://hrtests.archprofile.com/testdrive_gen_1
To learn more about psychological testing, download this free eBook: http://hrtests.archprofile.com/personality-tests-in-hr
About PsychTests.com
PsychTests.com is a subsidiary of PsychTests AIM Inc. PsychTests.com is a site that creates an interactive venue for self-exploration with a healthy dose of fun. The site offers a full range of professional-quality, scientifically validated psychological assessments that empower people to grow and reach their real potential through insightful feedback and detailed, custom-tailored analysis.
PsychTests AIM Inc. originally appeared on the internet scene in 1996. Since its inception, it has become a pre-eminent provider of psychological assessment products and services to human resource personnel, therapists, academics, researchers and a host of other professionals around the world. PsychTests AIM Inc. staff is comprised of a dedicated team of psychologists, test developers, researchers, statisticians, writers, and artificial intelligence experts (see ARCHProfile.com). The company's research division, Plumeus Inc., is supported in part by Research and Development Tax Credit awarded by Industry Canada.