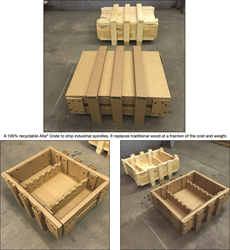 Lorain, OH (PRWEB) May 29, 2016
Cardboard Lumber, LLC has introduced a Cardboard Lumber™ product that delivers a sustainable solution for industrial customers. Ideal for packaging and freight applications it lowers costs while delivering a lower carbon footprint.
Alta® Board brand Cardboard Lumber™ deliver lumber-like strength, making them strong enough to hold up to demanding industrial applications. While ultra-strong, Alta® Board are one-third the weight of wood, reducing freight costs and carbon footprint throughout the supply chain.
This Eco-friendly product is paper-based, making it more eco-friendly than plastic alternatives. As well, they are easily recyclable. Unlike wood or many plastic materials, Alta® Board can readily be recycled through existing recycling outlets that handle paper and fiber.
Improved packaging performance is delivered as fabricating crates, pallets and interior packaging, blocking and bracing items with Alta® Board allows you to get a perfect fit every time. Alta® Boards deliver the flexibility and strength of wood at a fraction of the cost. Even when product or pallet configurations change every time, Alta® Boards get the job done.
Ideal for the automotive industry, aerospace, custom manufacturing, industrial machinery suppliers and a wide range of other industries.
Alta® Board is also space saving. Users are able to build crating and pallets as needed, saving storage space versus pre-fabricated items that must be ordered in quantity to meet manufacturer minimums.
Using our materials helps you improve your carbon footprint and make a powerful statement about the importance of sustainability to your business.
Alta® Board ships via UPS; an equivalent amount of wood would have to ship on a truck, making it more expensive and extending delivery time.
Visit http://www.CardboardLumber.com for detailed information and material specifications.