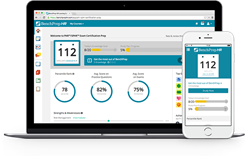 The BenchPrep HR Learning System is the best-selling bundle offered by HRCI.
Chicago, IL (PRWEB) June 02, 2016
BenchPrep, a leading digital learning company, today announced the launch of the BenchPrep HR Instructor Kit to help HR instructors deliver personalized instruction for PHR and SPHR certification exam prep programs. The innovative Instructor Kit is a comprehensive offering that includes digital instructional materials, pre-defined syllabi, customizable study plans, in-class exams and full access to the best-selling BenchPrep HR Learning System on web and mobile devices.
Last year, BenchPrep partnered with HR Certification Institute (HRCI), the premier HR credentialing organization dedicated to setting the standard for HR mastery and excellence around the globe, to offer its learning system to PHR and SPHR candidates as part of the "build your own bundle" program. Applicants were allowed to bundle exam preparation products like the BenchPrep HR Learning System with the exam application and registration fees. The BenchPrep HR Learning System is the best-selling bundle offered by HRCI.
With the new product focused on helping instructors, BenchPrep aims to make it effortless for any HR professional to teach a PHR/SPHR prep course, even without prior teaching experience. More than 200 colleges and 500 local HR chapters guide HR professionals on their way to gain PHR and SPHR certifications. The BenchPrep HR Instructor Kit is designed to help instructors and administrators who are managing existing prep programs at colleges, universities and local HR chapters. Additionally, the Kit makes it extremely easy to launch a PHR/SPHR prep program for the first time.
The Kit was created by PHR/SPHR instructors with over 20 years of teaching experience. The course design and materials are crafted around first-hand expertise and knowledge of the most effective teaching methods to ensure students pass the exam on the first try.
The Kit includes:

A detailed daily class guide for each lesson
Digital instructional material to support each classroom session
Six in-class practice quizzes for all six functional areas
One in-class, 100-question practice exam
Digital instructional material highlighting quiz answers and explanations
Links to full lessons on the BenchPrep HR Learning System for every in-class topic
Full access to the complete BenchPrep HR Learning System for each student
Real-time activity and performance analytics for every student
Custom course outlines for 13-, 12-, and 7-week courses
BenchPrep will showcase the Instructor Kit at the upcoming SHRM 2016 Annual Conference & Exposition in Washington DC. The Exposition Hall is open June 19th through June 21st and BenchPrep will be at booth #3514.
Additional Information
Learn more about the BenchPrep HR Instructor Kit at: https://benchprephr.com/instructor-kit
Learn more about the BenchPrep HR Learning System at: https://benchprephr.com
###
About BenchPrep HR Learning System
The BenchPrep HR Learning System is the most popular PHR/SPHR Prep bundle offered by HRCI. The Learning System provides all the content and features necessary to ace the PHR and SPHR exams, including 1600+ practice questions with answer explanations, instructional content for all six functional areas, diagnostic assessments, full-length practice exams, more than 6 hours of video lessons (recorded webinars), a bi-weekly live webinar series with an HR expert, a personalized study plan with daily goals, detailed reports highlighting relative strengths in each HR content area, interactive flashcards, a game center, a discussion forum to collaborate with other candidates, native apps for mobile & tablet devices (iOS & Android), unlimited resets of exams and practice questions and email/phone support.
About BenchPrep
BenchPrep is a turn-key solution for education and training companies to create and deliver personalized digital learning programs across multiple devices including web, tablet and mobile. More than 2 million learners have used BenchPrep. The world's leading education organizations, including ACT, Hobsons, McGraw Hill Education, The Princeton Review and HR Certification Institute, use BenchPrep to help learners improve outcomes.
For more information, visit https://benchprep.com