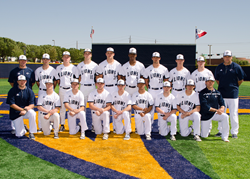 Plano, TX (PRWEB) May 31, 2016
Prestonwood Christian Academy accomplished a long-time goal on the baseball diamond on Wednesday, May 25, 2016, resulting in an unprecedented athletic year for the school.
PCA clinched what the local media is calling the TAPPS 5A "Triple Crown;" winning State titles in football, boys basketball and baseball all in a single school year. In addition to the Triple Crown, PCA teams also achieved State Championship titles in girls golf and competitive cheerleading as well as secured individual gold medals in swimming and multiple track events.
"Winning State Titles doesn't happen often in the life of a school, and it's a feeling that needs to be cherished and used as motivation," said Chris Cunningham, PCA's Athletic Director and Head Football Coach. "This has truly been a special school year, and we are giving all the glory to God."
PCA's Varsity Baseball team played for the TAPPS 5A State Championship after defeating St. Thomas High School of Houston 5-4 on May 24. Facing opponent Monsignor Kelly Catholic High School from Beaumont, TX, on May 25, PCA won 7-1 securing the school's first ever baseball State Championship and finished the 2016 season with a 31-1 record.
"We teach Kingdom Athletics at PCA, which is more than just how to excel in a selected sport. It's training the hearts and minds of student-athletes to value hard work, discipline, teamwork, and sportsmanship in the classroom of athletic development and competition," said Coach Cunningham. "Colossians 3:23 says, 'Whatever you do, work at it with all your heart, as working for the Lord,' and this is the standard on which we base our expectations of our student-athletes!"
Prestonwood Christian Academy serves more than 1,600 students enrolled at three campuses: Plano (Pre-Kindergarten 3 through 12th grade), PCA North in Prosper (Pre-Kindergarten 3 through 6th grade) and PCAplus Virtual Academy. The school has been recognized as having one of the strongest Christian education programs in the country providing intentional biblical worldview training and integration. PCA places great value on the growth of students' spiritual health in addition to their scholastic endeavors and co-curricular activities. In addition to PCA's spiritual development plan, the school promotes a rigorous Liberal Arts academic program. PCA is currently accepting applications for the 2016-17 school year. Interested families are invited to take a tour of either campus. Please visit http://www.prestonwoodchristian.org for more information!