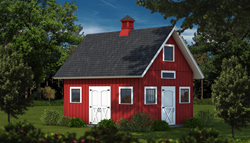 The designs of the wood barn kits are inspired by historic American barn plans
Columbia, SC (PRWEB) May 27, 2016
Southland Log Homes, designer and manufacturer of America's Favorite Log Home™, has launched a line of classic American timber frame barn kits, which can be found on its website at SouthlandLogHomes.com.
The designs of the wood barn kits are inspired by historic American barn plans, and they highlight the craftsmanship of timber post and beam construction. The result is a barn that not only evokes the beauty of classic wood barns, but is also functionally unsurpassed.
Southland's barn designs are ideal for a wide range of uses, from vehicle and equipment storage, to housing horses or other livestock, to backyard workshops or studios, to recreational space that is ideal for parties, gatherings and events with family and friends.
Each Southland barn kit is pre-manufactured, including the measurement and cutting of the timbers, to ensure the highest quality and easiest construction of the finished barn. The kits contain everything needed for a finished barn, except the concrete for the footers and the paint.
"We are excited to make these classic barn kits available to our customers", said Ken Sekley, Southland's President and CEO. "They continue Southland's longstanding tradition of offering high quality products with excellent designs that evoke the very best of traditional American homes and other structures."
About Southland Log Homes: Headquartered in Columbia, South Carolina, Southland Log Homes was founded in 1978 and is the largest log home company in the United States. Southland operates model home sales offices and has authorized Southland dealers located throughout the United States, Europe, and Asia. Model homes are located in Atlanta, GA; Baton Rouge, LA; Birmingham, AL; Charlotte, NC; Christiansburg, VA; Columbia, SC; Dallas, TX; Danville, PA; Fredericksburg, VA; Greensboro, NC; Greenville, SC; Houston, TX; Northwest Indiana; Kansas City, MO; Lake City, FL; Louisville, KY; Macon, GA; Memphis, TN; Nashville, TN; Springfield, MA; and San Antonio, TX. For more information about Southland Log Homes, call 800-641-4754 or visit http://www.SouthlandLogHomes.com.