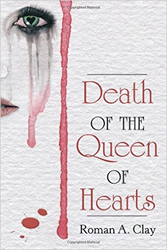 The more I learned about what happened to Princess Diana the more mysterious it seemed.
SEATLLE, Wash. (PRWEB) May 31, 2016
The untimely death of Princess Diana remains a topic of fascination for many people. The events leading up to and taking place after her tragic passing still leave many with questions, curiosity and distrust.
One such inquisitive writer is Roman A. Clay, who after seeing Princess Diana's image and story flashed across endless headlines felt compelled to dig deeper and uncover the truth. After tireless research and applying his professional knowledge he has come to a new conclusion as to what he believes ultimately should be marked as a murder.
Clay shares his knowledge through new novel, "Death of the Queen of Hearts." The story follows young Prince James as he receives a mysterious letter on his 21st birthday. A letter that could only have come from his mother, Princess Christina, who had died four years prior to that day. This initial artifact leads him to a series of clues, neglected witnesses and shocking facts about what really happened to his mother.
Not content to simply share straightforward play-by-plays of the events, Clay felt it was more useful for people to envision what he believes happened to Princess Diana in story form. He changed many names and locations, but adds subtle clues along the way for those knowledgeable on royal family history to be able to point back to his true meaning.
"The more I looked into the story of Princess Diana, the more I felt like I was reading a Dan Brown novel," Clay said. "I thought his story style was the most appropriate way to deliver the truth behind what happened."
"Death of the Queen of Hearts" shares the dark side of celebrity, the malevolent nature of conspiracy and the heart-wrenching impact of tragedy wrapped in a blanket of mystery.
For more information, please visit http://www.deathofthequeenofhearts.com
"Death of the Queen of Hearts"
By: Roman A. Clay
SC-ISBN: 978-1-4808-2313-6
SC-Retail price: $15.99
Available at barnesandnoble.com, amazon.com and ArchwayPublishing.com
About the author
Roman A. Clay is a health administrator with experience in the film industry. He wrote "Death of the Queen of Hearts" as a screenplay and transitioned it into a novel to help share his discoveries about how Princess Diana passed away.
###
EDITORS: For review copies or interview requests, contact:
Spencer Hotz | 317.602.7137| shotz(at)bohlsengroup(dot)com
(When requesting a review copy, please provide street address.)