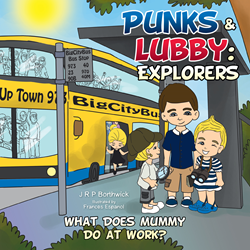 I simply want kids to be curious about the world.
HONG KONG (PRWEB) May 29, 2016
As any parent knows, when leaving for work their children are often overcome with questions: Where is mom going? What does she do all day? Who does she work with? Etc.
Author Jarl Borthwick wants to help parents to explain the professional world to their children with his new series, "Punks & Lubby: Explorers." Each book will explore a different profession as his two characters follow adults to their job and learn about what they do day-to-day.
The first installment in the series, entitled "What Does Mummy Do at Work?," is based on Borthwick's wife who is a senior executive in a global financial firm based in Hong Kong. His two curious and adventurous young daughters serve as inspiration for protaganists Punks & Lubby as well.
"More than helping kids understand the professional world," Borthwick said. "I wanted to inspire a stronger sense of gender equality at an early age."
Not only does the first installment highlight a woman who has clearly shattered the glass ceiling, but Lubby dresses in clothes that are stereotypically associated with boys. Each character combines "masculine" and "feminine" qualities to provide a much more realistic depiction of kids ultimately helping children be more comfortable in their own skin and accepting of others.
"I simply want kids to be curious about the world and help them become more accepting of different people, cultures and lifestyles," Borthwick said.
"Punks & Lubby: Explorers – What Does Mummy Do at Work?"
By: J R P Borthwick
SC-ISBN: 978-1-4828-2320-3
SC-Retail price: $22.35
EB-ISBN: 978-1-4828-3231-0
EB-Retail price: $5.99
Available at barnesandnoble.com, amazon.com and Partridge Publishing
About the author
Jarl Borthwick works in business development in the insurance and health-related sectors in Hong Kong. He additionally applies his skills to other ad hoc, entrepreneurial projects with his business associates around the globe. He currently resides in Hong Kong, but regularly visits family and friends in his home countries of Scotland and Norway, as well as his wife's home in Australia. He loves spending time with his wife and taking his two daughters to new places to explore the world.
###
EDITORS: For review copies or interview requests, contact:
Spencer Hotz | 317.602.7137| shotz(at)bohlsengroup(dot)com
(When requesting a review copy, please provide street address.)