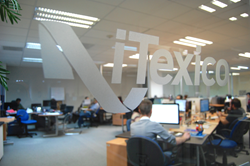 Doing business here is almost like doing business in the U.S.
(PRWEB) June 08, 2016
Mexico's tech hub is being built in Guadalajara, and there is no wonder why this city is being called Mexico's Silicon Valley. The region's talent pool and creative innovation are helping to establish it as a global tech center.
The article states that Guadalajara has hosted big-name companies since 1960, with the arrival of IBM and Motorola to build semiconductors and silicon wafers. These companies were attracted by its young and qualified engineers graduating from top universities around the country. Around $120 million in venture capital funding, mostly coming from the United States, has been invested in nearly 300 Guadalajara-based start-ups since 2014. Ideal conditions, such as proximity to the USA, NAFTA, IP protection, time zone and cultural affinity makes the country a strong competitor to India and a rising IT star in Latin America.
"Doing business here is almost like doing business in the U.S.," says Anurag Kumar, chief executive and co-founder of iTexico.
Government will continue to support IT programs as Creative Digital City is being designed as an ecosystem for creative minds to share knowledge and influence future generations to produce high-impact projects.
"All the products made in Jalisco can be delivered anywhere in the U.S. in less than 24 hours," says Jalisco's governor, Aristóteles Sandoval. "We have a port two hours away; the time zone is almost the same."
The demand for services and products will increase in the next few years and Mexico will have the capacity to deliver world-class software development services. "There's a growing sense of opportunity," says Mak Gutiérrez, director of Hackers and Founders.
About The Washington Post
The Washington Post is an American daily newspaper. It is the most widely circulated newspaper published in Washington, D.C., and was founded on December 6, 1877, making it the area's oldest extant newspaper. The newspaper has won 47 Pulitzer Prizes. This includes six separate Pulitzers awarded in 2008, the second-highest number ever awarded to a single newspaper in one year. For more information, visit The Washington Post website.
About iTexico
iTexico is a global software technology company that helps clients build and support mobile and fullstack software solutions by leveraging nearshore agile expert teams in US and Mexico at a competitive price. The company has a team of over 120 expert professionals in Austin and Mexico that have worked with more than 100 clients in US and Canada. In 2015, iTexico was ranked number 188 on Inc. 500 and Number 11 on Austin Fast Fifty.