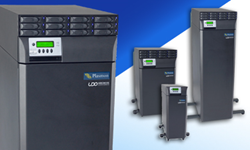 These upgrades and improvements can increase performance and capacity, increase uptime, and improve reliability, greatly extending the life of the equipment
Colorado Springs, CO (PRWEB) May 31, 2016
Data archiving leader, Alliance Storage Technologies, Inc. (ASTI), has announced the availability of a new service assessment developed specifically for Plasmon® data archiving library customers. The complimentary system evaluation is designed to help customers with Plasmon® direct attached and network attached libraries identify potential upgrades, expansions, and or features, currently available for their systems.
According to ASTI's Service Manager, Tim White, the systems evaluations provide customers with important knowledge needed in order to make lifecycle management decisions regarding their archiving systems. "These various upgrades and improvements can increase performance and capacity, increase uptime, and improve reliability, greatly extending the life of the equipment," added White.
"Plasmon® libraries have been designed to last and many customers have enjoyed reliable data archiving for greater than 10 years on their existing systems. Since the inception of many of these devices, there have been advancements in technology that customers may not even know about," explained ASTI CEO, Chris Carr. "As an example, the second generation of Ultra Density Optical (UDO) media and drives is available. That change alone, from 30GB to 60GB UDO, can double capacity and improve performance while reducing media costs." Plasmon® archiving libraries have been designed to be scalable and many capacity and performance upgrades can be easily implemented within existing systems.
ASTI indicates that upgrading the Plasmon® libraries has many benefits over switching to an alternate technology that typically requires data migration, can take weeks, months, or even years to accomplish depending upon the amount of data, with the added risk of potential data loss. Carr clarified,"Continuing to utilize existing Plasmon® libraries just makes good business sense and enables customers to avoid the pain of migration while extending their current archiving investments."
ASTI has continued to develop the archive appliance network attached storage solutions improving performance and capacities while significantly extending software features. "Over the years, we have expanded the hardware capabilities of the archive appliance line folding in electronic advancements as they become available in order to vastly improve performance," remarked Tim Summers, company Vice President. "We have also accelerated the introduction of software advances adding contemporary features such as cloud storage tiers and FIPS 140-2 compliant data encryption to the Archive Management Software, which is a key aspect of every Archive Appliance solution."
Customers can take advantage of ASTI's new program to receive a no charge evaluation of their existing Plasmon systems. ASTI's upgrades can improve performance, increase capacity, reduce maintenance costs, and ultimately result in improved customer satisfaction. The complimentary service assessment is available by contacting ASTI Technical Support directly at 877.585.6793.
ASTI has set aside an educational section of the website specifically to help customers understand the upgrades and improvements by model type. Click here to access the Plasmon Library Upgrades page. Note that ASTI advises that every system configuration is different and upgrades strategies may differ between applications.
Additionally, ASTI offers worldwide service and support for Plasmon® libraries of all types. Service plans include remote, onsite, and telephone support at a variety of service levels depending upon business need. Only certified Plasmon® replacement parts are utilized in repairs.
###
About Alliance Storage Technologies, Inc.
Alliance Storage Technologies, Inc. (ASTI) is the primary source for professional data archiving solutions worldwide that meet and exceed challenging regulatory demands for secure archival data. Professional solutions provide value to any industry including: Healthcare, Finance, Government, Insurance, Legal, and more. These regulatory-compliant systems preserve unaltered data for extended periods (greater than 50 years) at an exceptionally low total cost of ownership.
Integrated and scalable professional data archiving solutions include: Cloud Integrated Storage (CiS), Network Attached Storage (NAS), related management software, and direct attached libraries all with true Write-Once-Read-Many (WORM) as the core technology. Best-in-class global support services are available to sustain customer installations. Additionally, a complete line of certified Plasmon® parts are available. ASTI is committed to providing every customer with exemplary customer service and support from first contact through the life of the relationship. Thousands of businesses worldwide trust ASTI quality to secure their valuable investments in corporate data. For further information, please visit http://www.alliancestoragetechnologies.com , or call 719-593-7900.