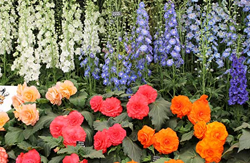 "I recommend interested guests book quickly, because this spectacular journey is sure to sell out."
DELRAY BEACH, Fla. (PRWEB) May 27, 2016
Insight Vacations®, the leader in luxury and premium escorted journeys, is delivering guests directly to London's preeminent compilation of show gardens, magnificent floral displays and extensive model gardens. Botanists, horticulturalists and amateur gardeners alike will delight in "European Affair with The Chelsea Flower Show," an exclusive single-departure journey reinstated by popular demand.
"Insight is constantly enhancing our innovative collection of Special Interest itineraries, and our 'Chelsea Flower Show' tours are perennial favorites," said Phil Cappelli, president, Insight Vacations. "I recommend interested guests book quickly, because this spectacular journey is sure to sell out."
From Amsterdam's famed floating flower market to the gardens that inspired Monet, this itinerary showcases the stunning floral masterpieces of England, Belgium and France along with an intimate glimpse into the history and culture of each destination.
European Affair with The Chelsea Flower Show
This nine-day celebration of loveliness and magnificence, departing May 26, 2017, commences in London at the Chelsea Flower Show where guests witness the exquisite courtyard, city, rooftop and show gardens before embarking on a Thames River Dinner Cruise Signature Experience. The cobbled streets and breathtaking canals of Amsterdam offer a variety of additional botanic attractions, from the floating flower market to the Aalsmeer Flower Auction, where approximately 20 million flowers are sold every day.
Belgium's medieval Bruges gives guests a taste of the 16th century as well as a relaxing canal cruise and Hotel De Tuilerieën, one of Insight's Signature Hotels. Paris, the glittering "City of Light" acts as home base for three nights as guests explore the Notre Dame Cathedral, the Louvre and the Arc de Triomphe before surveying the city from inside the Eiffel Tower. In the Château country of the Loire Valley, travelers experience the glamour and grandeur of French royalty and witness the wonders of Monet's illustrious gardens.
For more information, please visit us at insightvacations.com, and join the conversation using the hashtag #InsightMoments on Facebook and Twitter. For reservations, contact your favorite travel agent or call Insight Vacations at (888) 680-1241.