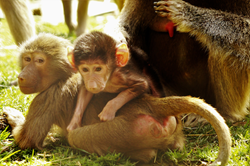 Martijn and Krista came to the Oakland Zoo from Emmen Zoo in the Netherlands as part of the SSP's plan to increase diversity in the US population.
Oakland, CA (PRWEB) May 27, 2016
Krista (age 20) and Martijn (age 15) are proud parents to baby Zachary, whose birth brings the total number of Hamadryas baboons at Oakland Zoo to fifteen. This makes for the second largest Hamadryas baboon troop at a U.S. Zoo, with North Carolina Zoo having the largest troop (20). Martijn is the troop's leader and both mom and dad are once again proving to be great parents to the new addition. Zachary is adjusting wonderfully to his surroundings and is already attempting to assert some independence. Mom, Krista, is keeping a close eye on him as older siblings are very curious about their little brother - zookeepers say they are showering him with affection and desperate to play with him.
The Association of Zoos and Aquariums (AZA), which Oakland Zoo is accredited by, has issued breeding recommendations for this troop of baboons as the genetic lines are very valuable. Zookeepers continue to work closely with the SSP (Species Survival Plan) to increase genetic diversity in the Zoo population of Hamadryas baboons.
"We are so proud that we have been able to contribute to the genetic diversity of the Hamadryas baboons in the US. Martijn and Krista came to the Oakland Zoo from Emmen Zoo in the Netherlands as part of the SSP's plan to increase diversity in the US population. We anticipate that these infants will eventually grow up to start their own families and we are thrilled that they have such good role models," said Margaret Rousser, Zoological Manager at Oakland Zoo.
Hamadryas baboons live in complex social structures. An adult male will have several females in his "harem" which he will protect in exchange for exclusive breeding rights. The females will develop relationships as well and assist each other with child rearing. While the males are not as involved as the females in rearing the infants, they are good fathers who will protect their offspring and as they get older, they will sometimes play with them or otherwise allow them to join in their activities.
Oakland Zoo's baboons can be seen daily by the public from 10:00am - 5:00pm at the Baboon Cliffs exhibit, located down the hill from the African Veldt. The Baboon Cliffs Exhibit opened in the fall of 2009 and is approximately 8,100 square feet in size. It includes a cascading waterfall, climbing structures, a spacious area for the baboons to roam, a night house facility, and offices for Zoo staff. Guests are able to observe all fifteen of the baboons from a large viewing deck.
About Hamadryas Baboons: A group of baboons is often referred to as a troop. They are generally 24 – 30 inches in length and can weigh up to 80 pounds (females generally weigh around 40 pounds and males weigh 75-80 pounds) . Hamadryas baboons eat vegetables, protein-rich insects, and some red meat. They have an active lifestyle and live to be around 30 – 40 years of age. Hamadryas baboons in the wild are found in Ethiopia, Somalia, Saudi Arabia, and Yemen. In the wild, baboons congregate in very large groups to sleep at night. During the day, they separate into smaller groups to forage for food. Throughout history, Hamadryas baboons were worshipped by Egyptians as the incarnation of their God, Thoth, who is often depicted with the head of a baboon.
About Oakland Zoo:
The Bay Area's award-winning Oakland Zoo is home to more than 660 native and exotic animals. The Zoo offers many educational programs and kids' activities perfect for science field trips, family day trips and exciting birthday parties. Oakland Zoo is dedicated to the humane treatment of animals and wildlife conservation onsite and worldwide; with 25¢ from each ticket donated to support conservation partners and programs around the world. The California Trail, a transformational project that more than doubles our size, opens in 2018, and will further our commitment to animal care, education, and conservation with a focus on this state's remarkable native wildlife. Nestled in the Oakland Hills, in 500-acre Knowland Park, the Zoo is located at 9777 Golf Links Road, off Highway 580. The East Bay Zoological Society (Oakland Zoo) is a nonprofit 501(c)3 organization supported in part by members, contributions, the City of Oakland and the East Bay Regional Parks. For more information, go to: http://www.oaklandzoo.org