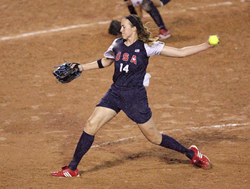 Monica Abbott becomes the second endorser for Gorilla Gold. She joins renowned golf instructor, Hank Haney.
Lewiston, Idaho (PRWEB) June 09, 2016
Monica Abbott, who recently signed softball's first million dollar contract with Houston's Scrapyard Dawgs of the National Pro Fastpitch league, has become the spokesperson for Gorilla Gold, a grip-enhancing product she has used on the mound for several years. A Silver Medalist in the 2008 Beijing Olympics, Abbott has won repeated championships in both American and Japanese professional leagues.
A career that is defined by a long and powerful stride resulting in record speeds that have reached 77-miles per hour, Abbott has been a dominant force in the sport since her freshman year at the University of Tennessee. As a Lady Vol, she became the first pitcher to record 500 strikeouts in each of her four years. During her senior season in college, she set the record for the most strikeouts (724) in a Division I softball season and became the NCAA Division I Softball all-time leader in career wins, strikeouts, shutouts, innings pitched, games started and games pitched.
She was the recipient of the 2007 Honda Sports Award for the Top Collegiate Softball Player in the country and was named the 2007 USA Softball Collegiate Player of the Year. She was also named the 2007 Women's Sports Foundation Sportswoman of the Year.
Abbott, who signed a 6-year million dollar contract with the Scrapyard Dawgs last week, has won both Pitcher of the Year and championship MVP, and in 2015, recorded her second career perfect game. Playing in the Japan Softball League since 2010, she has been awarded the league MVP three times.
"We have admired Monica as both a stellar athlete and as a remarkable person who models the very best qualities to young women attracted to play sports," said Patrick Dugan, CEO. "Gorilla Gold has been a part of Monica's success for years, and as we expand our focus to softball, we know that we could not find a stronger advocate for our product."
"On the hottest and sweatiest days on the softball field, I have found that Gorilla Gold has helped improve my grip," Abbott said. "I'm extremely pleased that I will be able to provide Gorilla Gold to all the participants in my clinics, so that they can experience its benefits."
According to Tom Donahoe, director of marketing, "We've seen continued growth in fastpitch, especially among pitchers, so signing the best pitcher in the world who also happens to be a user of our product makes a lot of sense for us."
About GORILLA GOLD
GORILLA GOLD manufacturers Gorilla Gold All-Sport and Gorilla Gold Golf, designed to improve grip in every sport where grip control is critical to the game. Monica Abbott becomes the second endorser for Gorilla Gold. She joins renowned golf instructor, Hank Haney. In addition to the ASA, NCAA Softball, the International Softball Federation (ISF), International Softball Congress, and the National Federation of High Schools (NFHS) approve Gorilla Gold for both pitchers and batters. The company was founded in 1998 and is headquartered in Lewiston, Idaho. The product is available worldwide and at http://www.gorillagold.com.
You can find Monica pitching in Houston this summer for the ScrapYard Dawgs.