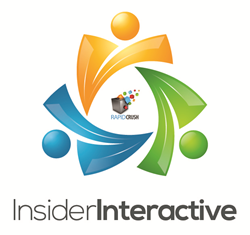 Insider Interactive is all about helping growing businesses win, and keep winning.
Valencia, CA (PRWEB) May 28, 2016
Rapid Crush, Inc. announced today the first edition of a new interactive business training program called Insider Interactive. It is a live, online program that features 36 sessions over the 90-day course, starting this June. Insider Interactive is designed to help power the ambitions and success of entrepreneurs and business people worldwide, the company said today.
Doland White, CEO of Rapid Crush, said, "We are excited to introduce Insider Interactive. I can't think of a better way for any entrepreneur to make leaps and bounds towards their business goals and ultimately, success, than by working directly with world class mentors who have years of experience. And, that is something we can definitely provide."
Jason Fladlien, Co-Founder of Rapid Crush, added, "We know that when our customers grow, we grow. When they win, we win - it's just that simple. Insider Interactive is all about helping growing businesses win, and keep winning. We should know; we are in the business of winning, and committed to helping folks 'crush it everyday.'"
Starting in June, Insider Interactive courses will be conducted over a span over 90 days. Six executives are featured. The topic range includes branding, marketing, strategy, operations, management and technology learning.
The classes will be guided by key Rapid Crush, Inc. leaders, all of whom have been responsible for countless business success stories and growth. The Rapid Crush leaders involved bring a combined 111 years of "insider expertise" and draw upon their experiences and expertise from senior management roles with leading companies and brands like Novell, Symantec, Paramount Studios, The Walt Disney Company and Coca-Cola, among others.
About Rapid Crush
Rapid Crush Inc. is a business knowledge, sales conversion and digital marketing leader, with operations and customers worldwide. RCI was founded by Jason Fladlien and Wilson Mattos in 2011, and has its world headquarters in Valencia, California.