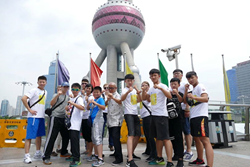 There will be Shaolin Kungfu instructors Certification training program for qualified students.
Atlanta, GA (PRWEB) May 30, 2016
Shaolin Institute officially starts the annual overnight summer camp on June 6th, while Shaolin warrior 8-day-8 and 8-night special intensive summer training camp starts on June 17th on Shaolin Institute Atlanta Campus.
Shaolin Institute annual overnight summer camp offers families and children a fun and unique experience with an opportunity to learn KungFu martial arts discipline, Tai Chi mind-body conscious communication, swimming, arts & crafts, Chinese language and music appreciation as the camp director Steve Gusler expressed.
He further explained that the camp has 12 instructors and staff members to assist and teach the campers at any point in time during the 6-week camp period, and assist each camper in a fun way of learning and character building while teaching them language, arts, KungFu Chan thinking and skills.
"The Shaolin way of life", said Shi DeRu, "is built upon important core values like love and compassion, respect, discipline, integrity, and perseverance."
Children who participate in Shaolin Institute's summer camp will open to new potentials, developing new skills and strengthen their character while having fun and enjoying the summer according to the master.
The camp will stimulate the child's natural enthusiasm, potential creativity, and energy, while teaching them to direct those skills towards positive goals. In addition to the children's camp, they also offer students a full immersion intensive camp for qualified students according to the curriculum and schedules of the camp.
As Shi DeRu has said before, "Life can be challenging; To be a warrior in life is even more challenging. Shaolin apprentice like training here is only for those who are willing to face their fears and overcome challenges with joy."
The main training courses of the camp will be presented as follows:
● Shaolin Chan living and Chan nutrition
● Leadership ability with discipline, character, self-Confidence & efficient communication training
● Arts and crafts
● Chinese basic conversation and limited writing
● Traditional Shaolin weapon skills
● Traditional internal and external Kungfu inner mechanism and power
● Shaolin Kungfu Sanshou/Sanda personal safety
● How to defeat violence with soft hands and minds, "Self-Defense is a state of mind"
This overnight training camp, according to the camp director, will give students total body/mind training in discipline, self-confidence, self-control, and self-empowerment, to prepare committed students for future growth in life.
"The special Shaolin Intensive training camp is designed for qualified students who are able to enjoy the experience of the true essence of Shaolin KungFu and willing to travel an extra mile in life challenges," said the master..
There will also be Shaolin Kungfu instructors and Masters Certification training program for qualified students. Please contact the Shaolin Institute at http://www.shaolin-world.net for more details.
About the chief instructor:
Shaolin Institute is directly derived from the southern yard of the Shaolin Temple in Henan Province, China which is the cradle of all martial arts, and is committed to teaching original Shaolin wisdom as has been passed down from generation to generation for more than 1,500 years.
Through the wisdom of Chan, Confucianism and Taoism combined with the discipline of traditional KungFu, the Shaolin Institute offers age-appropriate curriculum in: Shaolin Culture, Chinese language, Shaolin Kung-Fu (Gong Fu), Tai Chi (Taiji Quan), Tai Gong (for Natural Healing) and Chan (Zen) Meditation. The mission of the institute is to empower and enlighten everyone who comes to the institute so as to assist them in conquering life's challenges.
For more information please contact the institute: 770-286-9808; Email: shaolininstitutega(at)gmail(dot)com
Website: http://www.shaolin-world.net