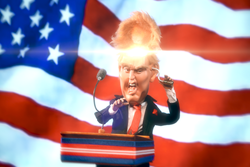 What do a sun-burnt troll, an anvil flattened monkey, and a golden turd all have in common? They are all part of what Cuppa Coffee is calling TRUMP UNHINGED, a bizarre animated foray into the frenzied mind of Donald Trump
TORONTO, ONTARIO (PRWEB) May 30, 2016
Starting June 1st, Toronto's Cuppa Coffee Studios is launching TRUMP UNHINGED, a bizarre animated foray into the mind of Donald Trump. "What do a sun-burnt troll, an anvil flattened monkey, and a golden turd all have in common? They are part of our surreal take on what is going on inside The Donald's head in this unusual political season," says Adam Shaheen, Cuppa Coffee's Executive Producer, concluding, "It's an important part of the US election conversation".
Each animation starts with a caricatured, stop-motion puppet of Donald literally flipping his lid before diving beneath Trump's famous golden mop. It took a team of 9 artists over a month to dream up and create everything in this big collection of little films. Our dedicated team shot over 4000 frames, went through 3 pounds of blue jelly beans, endless cans of gold spray paint, and a small fortune in chocolate gold coins to create this original peek into Trump's mind. Chris Morris, Cuppa's Creative Director, added, "You could say, we're mimicking the insanity with our own brand of the ridiculous while adding to the dialogue!"
Presented in the form of a deranged advent calendar, every day in June, Cuppa Coffee will unleash a new Trumped-up animation. Says Shaheen, "We cover all the favorite and newsworthy Trump moments, adding our own amusing, animated take on the issues from this rather offbeat political season."
Starting June 1st, visit http://www.trumpunhinged.com every morning to get your fresh dose of animated political insight! Trump madness also dishes daily on Twitter @CuppaStudios and Facebook at https://www.facebook.com/Cuppa-Coffee-Studios-184632598025/
About Cuppa Coffee Studios
http://www.cuppacoffee.com/
Cuppa Coffee Studios was founded in 1992 by illustrator Adam Shaheen. Since that time Cuppa Coffee has gone on to produce over 150 hours of animated television garnering over 180 international awards. Focusing on both Stop-Motion and 2-D animation, the studio brings a fresh and unique spin to animation, incorporating many new and innovative techniques. Cuppa Coffee has a proud tradition of creating satirical comedy. The studio produced several seasons of Celebrity Death Match for MTV, and in late 2013 they famously lampooned then-mayor Rob Ford in an outrageous stop-motion film titled FORDTACULAR SPECTACULAR.
Media Page: http://www.trumpunhinged.com/press