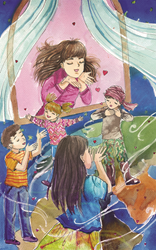 The success of any child or organization depends upon their state of holistic wellness. Learning healthy postures that allow one to breathe increases one's state of wellness!
Denver, CO and Miami, FL –
(PRWEB) June 01, 2016 -- Wind Kissed is a unique new juvenile fiction book published by Outskirts Press that warns about "tech/text" neck—a silent, secret killer that is suppressing the life force and causing widespread suffering. Written by Dr. Lynn Ann Migdal, a Chiropractor and ChiroChi Master, the book addresses the surprising problems stemming from today's chronic techno abuse, emotional abuse and unhealthy postures.
Wind Kissed centers around the Silver family, whose wealth can't fix the dysfunction that tears at eleven-year-old Rebecca. She endures her parents' emotional battles and the physical and verbal abuse of her older sister, and in response, Rebecca hunches over, tightening and over-contracting the muscles on the right side of her body. Over time, this has caused her spine to curve in unhealthy directions, creating pressure on her nervous system and wreaking havoc on her immune system. She also turns to the comfort of food.
Rebecca's life changes dramatically when she encounters the nature spirits of the sky, who help humans find peace and health. With their help, Rebecca learns how to heal herself from verbal, food, and techno abuse. She empowers her mind, body, spirit, and nervous system with healthy foods, thoughts, breaths, and postures, and she becomes healthier and happier—allowing her to take on her mission: saving the children and the planet.
At school, Rebecca tells the kids in her class that they need to hold up their cell phones, lift their laptops to eye level, and use wireless keyboards if they want to be healthy. Recent media coverage has revealed that looking down at cell phones and computers can cause "tech/text" neck, resulting in neck pain and numbness in one's hands. Unfortunately, this news has not influenced the public into changing these unhealthy postures. Most are not aware that this posture is also putting pressure on nerves that control the healthy function of all of the body's cells and organs, and can affect one's emotional stability.
In 2012, CNN reported that cell phone posture compresses the organs and compromises breathing. "The average human head weighs 10 pounds in a neutral position—when your ears are over your shoulders. For every inch you tilt your head forward, the pressure on your spine doubles. So if you're looking at a smartphone in your lap, your neck is holding up what feels like 20 or 30 pounds." A slumped posture also leads to a lack of oxygenated blood flowing through the body, which can lead to vascular disease and gastrointestinal problems.
Dr. Migdal adds, "I have been a Chiropractor (a Natural Neurologist) for over 34 years and have watched our society fail to recognize the truth about our own anatomy and physiology. Text/tech neck is more dangerous than pain and numbness. Most of us are malfunctioning and not honoring the one system that controls all of the other systems."
Wind Kissed exposes this new health threat in an entertaining and educational story of empowerment. It encourages young readers to honor their nervous systems, and to make healthier choices about diet, posture, breath, and attitude. It's also a reminder for people of all ages to look up at life, look up from technology, and make healthy, peaceful choices.
At 136 pages, Wind Kissed is available online through Outskirts Press at http://www.outskirtspress.com/bookstore. The book is sold through Amazon and Barnes and Noble for a maximum trade discount in quantities of 10 or more, and is being aggressively promoted to appropriate markets with a focus on the juvenile fiction and health categories.
ISBN: 978-1-4787-5377-3
Format: 5.5 x 8.5 economy color paperback
Retail: $10.95
ISBN: 978-1-4787-5391-9
Format: 5.5 x 8.5 economy color casebound glossy
Retail: $18.95
Genre: Juvenile Fiction / Health & Daily Living / Daily Activities
For more information about Wind Kissed, or to contact the author, visit http://www.lookingupfoundation.org or http://www.drlynnmigdal.com and http://www.amazon.com/author/windkissed.com
About the Author: Dr. Lynn Ann Migdal—Doctor of Chiropractic and ChiroChi™ Master, Holistic Neurological Fitness Life Coach, and Motivating International Speaker—has helped thousands to live up to their life potential over the past 34 years. As the founding director of the Looking Up Movement, an educational public charity, she has dedicated her life to spreading the truth about the damage that looking down at life and technology is causing in our society.