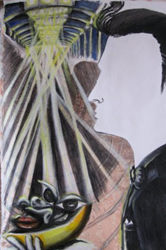 They give up their lives, hoping they leave a legacy behind worth fighting for. If we cannot make their sacrifices worth while, the least we can do is keep them in our hearts and minds like our breadth
Cupertino, California (PRWEB) May 29, 2016
Artist Sujata Tibrewala pays obeisance to the selfless surrender of military personnel through an exhibition marking Memorial Day at her Cupertino, California studio.
For Tibrewala, art is a medium that strings together deep and insurmountable emotions through a universal unspoken language. On the occasion of Memorial Day, the artist wants to invoke these emotions to display solidarity and gratitude to men and women who laid down their lives while serving their country. Memorial Day, celebrated this year on May 30, is an American holiday observed on last Monday of May every year, to honor men and women who died while serving in US military.
The observance that began after the civil war years in America is marked with people visiting cemeteries and holding parades. According to the artist, the day is not just a token remembrance but a solemn yet powerful reminder for everyone sitting in the cozy comfort of their houses that to make their days blessed there has been a soldier foregoing his/her comforts. Tibrewala showcases these raw, untouched emotions in a painting aptly titled 'Sacrifice,' displayed at the exhibit. The acrylic on canvas work follows a maze like pattern to present confounding thoughts that question if the sacrifice of a person is counted only when it is for the world to see. She ponders upon issues such as - Should every little contribution and sacrifice made by humans not be acknowledged? Should every small action of others that makes someone's life easier not be appreciated? Should people not avoid overlooking small sacrifices made in relationships, work and life and stop taking people for granted?
The life of a military personnel serves as a bigger example to highlight this point. Often cocooned in the safe zones and surrounded by a bubble of mundane whims and desires, humans tend to overlook the inestimable sacrifice a fellow human is making to bring peace in another part of the world. Those serving in the military forces have always impressed the artist, as for her, they show the extremes men and women are capable of going through to help one another. Tibrewala's works are an attempt to recognize these big sacrifices, while inspiring everyone to continue making world a happier place by making small changes.
About the artist:
Sujata Tibrewala, a self-taught artist come engineer remarkably embodies the indomitable spirit of human existence through her works. Her works, center around the theme of eco-feminism. She has exhibited her artworks in some of the most reputed venues around the globe such as University of Illinois, Chicago, Raw San Jose, Parallax Art Fair London, the Regional Commission of Arts St Louis, Life Force Arts Chicago, Mindworks Gallery Chesterfield, St. Louis Artists' Guild, Chesterfield Arts, Art World Association, Women's Caucus for the Arts, MySLART and Lalit Kala Academy, Delhi.
She moved to the USA in 2010 from India and practices her art form at the Bay Area, CA, where she resides presently.