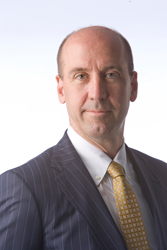 Technologies like Blockchain and chatbot will have tremendous impact for the accounting and tax services industry.
Orlando, FL (PRWEB) June 02, 2016
Recognized internationally for his work as a futurist, author and keynote speaker, Jack Uldrich will be addressing one the world's leading accounting and tax services firm's in Ponte Verde, FL on June 5.
As a futurist Uldrich's job isn't just about clarifying the top trends that are coming, he also aims to help his clients leverage the technological changes to their advantage, and unleash underlying philosophies that help organizations embrace change.
Uldrich says, "Technologies like Blockchain, Artificial Intelligence, chatbot will have a tremendous impact on the accounting and tax services industry." and he wants them to be as fully prepared as possible to leverage those technologies to their advantage.
"Financial interactions will continue to evolve as customers' physical and virtual worlds become intertwined, and social networks and mobile platforms will transform customers' accounting experiences and expectations. Still other advances will create an environment where a premium is placed on unconventional thinking and risk-taking."
A highly acclaimed futurist and trend expert, Uldrich has spoken all over the world to a variety of industries and organizations.
Uldrich has addressed clients such as Global Atlantic, Banamex, University of Wisconsin Graduate School of Banking, Coulee Bank, TD Bank in US and Canada, Invesco, Questar Capital, Thrivent, Signal Hills, and Stockbridge. The Minnesota Society of CPAs, Wells Fargo, CoBank, the Detroit Economic Forum, AgBank and the 2015 Institutional Investor Forum. Other notable clients in other sectors include Blue Cross Blue Shield, Verizon Wireless, United HealthCare, ABB, FedEx, St. Gobain and Emerson.
He has also appeared on CNN, MSNBC, and National Public Radio and is a guest commentator on the Discovery Channel's "FutureScape."
His new book, Win the Future: The Big AHA, will be published in 2016. More information on his writing and speaking is on his website.