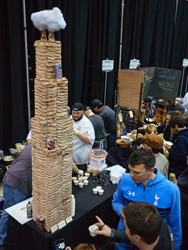 "We have the best chefs in the city participating, chefs that are Michelin-Star recipients, James Beard nominees, on the 2016 Bib Gourmand List all creating delectable bacon dishes," said Seth Zurer, co-founder of Baconfest Chicago
Chicago, IL (PRWEB) May 03, 2016
Baconfest Chicago finished its eighth year feeding over 4,500 people as 150 of Chicago's top chefs joined together in this weekend's festival at UIC Forum for three sessions of delectable bacon-inspired cocktails, craft beer and unlimited bacon treats. Baconfest Chicago also presented $50,000 to the Greater Chicago Food Depository, an organization that makes sure no one goes hungry in the Second City.
"We are really honored to be a part of Chicago's foodie scene and have seen first hand how it has grown. Eight years ago we started with only 10 restaurants and 75 guests," said Seth Zurer, co-founder of Baconfest Chicago. "We now have the best chefs in the city participating, chefs that are Michelin-Star recipients, James Beard nominees, on the 2016 Bib Gourmand List all creating delectable bacon dishes."
HD photos of the event are available HERE.
As part of each session, participating chefs competed for the Golden Rasher Award, an award to celebrate special achievement in the bacon arts. A panel of judges gave awards for "Most Creative Use of Bacon" and "Best Front of House Presentation."
The winners of each award are as follows:
Most Creative Use of Bacon
Saturday Lunch:Honey Butter Fried Chicken - Joshua Kulp & Christine Cikowski, Bacon Chicken and Grits
Saturday Dinner: Osteria Langhe - Cameron Grant Bacon Plin - With smoky dijon serrano jus
Sunday Brunch: TBA
Best Front of House Presentation
Saturday Lunch: Mity Nice Bar & Grill - John Chiakulas, Pigskin Wings
Saturday Dinner: GingerSnap Sweets & Such - Jen Templeton Bacon Opera Cake and The Bad Apple - Craig Fass Baconthology - The smokey and tasty history of bacon
Sunday Brunch: TBA
Sponsors and partners of Baconfest Chicago included: Nueske's Applewood Smoked Meats, The Cooking Channel, Breakthru Beverage, Universe, ACME Hotel Company, WBEZ 91.5 Chicago,
ChiroOne Wellness Centers, Jewel-Osco, Goose Island Beer Company, Revolution Brewing, Labatt Blue, Lagunitas Brewing Company, Pabst Blue Ribbon & Old Style, Old Tankard Ale, Lakefront Brewery, Not Your Father's Root Beer, Tito's Handmade Vodka, Templeton Rye, Koval, Old Smoky Moonshine, Virtue Cider, Candid Wines, Zing-Zang, Cicero Beverage Company, Uncle Dougie's, Bakon Vodka, High Brew Coffee, Smeraldina, Big Fork, Burton's Maplewood Farm, Four Eyes Handmade, Palo Popcorn, Passanante's Home Food Service, Wagshal's, Hall's, Onyx, and Windy City Linen.
About Baconfest:
Baconfest Chicago held its eighth tasting event on April 30 and May 1, 2016 at the UIC Forum (725 West Roosevelt). Ticketholders gain access to a bacon-wonderland, where the city's best chefs hand out amazing, creative bacon snacks. Luxury brands, artisan bacon-makers, and "bacontrepreneurs" display, sample, and sell a multitude of bacon products. The best mixologists and brewers hand out bacon-inspired cocktails, beer and wine. To celebrate special achievement in the bacon arts, Baconfest gives out Golden Rasher Awards (the Oscars of the bacon world).
Best of all, Baconfest is good for America. In addition to hosting a food drive and raffle at the event, Baconfest Chicago donates a portion of proceeds from ticket sales to the Greater Chicago Food Depository. In 2016 alone, Baconfest donated $50,000 to the organization. Since 2009, Baconfest has donated more than $350,000 to Chicago's food bank, which translates into nearly 1,000,000 meals for hungry people in the area.