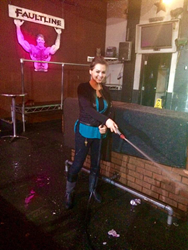 "The Faultline is here, it's not going away, now come on over and have a great time."
(PRWEB) June 08, 2016
Faultline Bar for the 22nd year will host Tom's Bar, an annual parking lot event benefiting the Tom of Finland Foundation. "This is a great event for a great organization," says Ruby Nuno, co-owner of the Faultline. "We are pleased to continue the tradition of serving the community."
Nuno and her business partner purchased Faultline in late April of this year from Jorge Usatorres. "This is an amazing establishment with a long history," Nuno remarked. "We want to make sure it continues. We didn't want to see the Faultline go the way of so many other iconic gay bars in Los Angeles."
An established fixture in the West Hollywood business community, Nuno purchased the Faultline intent on respecting and building upon its tradition. "My business partner and I had dinner with Shawn Farnsworth, founder of the Faultline, and we really appreciate what he created. That's important to us."
Located at 4216 Melrose Avenue, Faultline includes two bars and a large outdoor patio area. Featuring a mix of themed nights, DJs, live performances, parking lot events, and its long-standing Sunday beer bust, the Bar is a destination venue with a neighborhood feel.
The legendary Sunday beer bust starts at 2:00 pm and draws up to 600 participants. "We just had one of our best busts last Sunday," notes Nuno. "The place was packed, the go-go boys were dancing, and everyone was having a great time."
Faultline is also partnering with Lyft during June to provide vouchers for rides to the Bar.
A large part of what makes the Faultline successful, observed Nuno, is the roster of DJs, promoters and talent that make the Bar home, and, of course, the staff that make it all come together. "I love working with these guys," she noted. "We're releasing a new mobile friendly web site so that everyone can know what's happening at the Bar no matter where they're at. The message is, the Faultline is here, it's not going away, now come on over and have a great time."
Tom's Bar will be held Sunday, June 19, from 2 to 7 pm in the parking lot adjacent to the Bar. The Tom of Finland Foundation is a 501(c)(3) non-profit organization dedicated to promoting the art work of Touko Laaksonen or Tom of Finland and erotic art generally.
--
Faultine Bar is located at 4216 Melrose Avenue, Los Angeles, CA 90029. It's open Wednesday through Friday 5:00 pm to Close, Saturday and Sunday, 2:00 pm to Close. Rated best Bear Bar in Los Angeles. For more, visit http://www.faultlinebar.com/
For media inquiries, please contact Ruby Nuno, Co-Owner of Faultline Bar.
Email: ruby(at)thefaultlinebar(dot)com
Phone: 424.333.0173