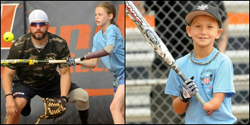 This is truly a life changing experience for these kids as America's heroes continue to serve their country in a special way, said Bucky Weaver WWAST Coach
Reston, VA (PRWEB) May 30, 2016
The Wounded Warrior Amputee Softball TeamTM will hold its annual National Softball Kids Camp this year in the Washington, D.C. area. The camp will be held from June 13th to the 18th.
The Wounded Warrior Amputee Softball TeamTM (WWAST) is comprised of active duty and veteran soldiers with missing limbs, who travel the country playing able-bodied softball teams.
Each year WWAST sponsors a Kids Softball Camp where the Team players serve as coaches and mentors. Attendees are children from all over the country, ages eight to twelve, who are amputees or missing limbs. WWAST team website
"As a team we all look forward to Kids Camp," said Bucky Weaver, WWAST Coach. "To be able to witness the bond between the children and the wounded warriors is such an inspiration. This is truly a life changing experience for these kids as America's heroes continue to serve their country in a special way"
"We are excited to offer this opportunity to our campers and our Team," said Dr. Jolanda Janczewski, WWAST Kids Camp Director. "This is a wonderful chance for them to grow and learn from each other and become an example to others who face similar challenges."
The week-long event culminates in a double-header, Friday June 17th, at the George Mason University softball complex in Fairfax, Virginia. Gates open at 5:45, and the event starts at 6. The kids camp game will be followed by the WWAST taking on local celebrities.
"This is truly a labor of love and community," said Janczewski. "Countless volunteers and sponsors come together to make this weeklong event a success. WWAST is grateful to all who continue to reach out and contribute their time, their money and their heart."
The three major sponsors for the event are George Mason University, New Balance and The William H. Donner Foundation. "We are grateful to our sponsors. They are the keystone to our organization," said Janczewski.
Support from Washington, D.C. and the surrounding areas is highly encouraged. A cheering crowd is what these kids need to feel motivated. With this support, these veterans who sustained debilitating injuries while protecting our country and theses children who face many of the same challenges will help raise awareness and educate
and inspire the public about the strength and resiliency.
About Wounded Warrior Amputee Softball TeamTM & Kids Camp:
The Wounded Warrior Amputee Softball Team (WWAST) is a charitable organization, whose mission is to inspire and educate others while enhancing the health and welfare of wounded warrior amputees. The Team was created in March 2011, and travels the country playing able-bodied softball teams.
Kids Camp is an annual WWAST event. To qualify to attend Kids Camp, children must be between 8 – 12 years old, with an amputation or missing limb, and be physically capable of participating in our daily softball clinics. Children from all over the country are eligible to attend. WWAST pays all expenses for the child and a parent, including travel, meals and lodging.