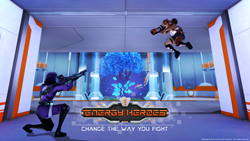 Bordeaux, France (PRWEB) June 01, 2016
Studio22, a French independent game development studio, today announced that the free-to-play third person shooter multiplayer online Energy Heroes is now available directly from their web site. Energy Heroes is a free-to-play team versus team science fiction Third Person Shooter designed to enhance collaborative gameplay experiences by tweaking the classic rules found in MOBA and other team based online multiplayer games.
"We are ecstatic to finally make the game available to fans. It has always been extremely important to us to receive feedback from players and take it into considering during our development process." says Thierry Haibach, Energy Heroes creative director and studio manager. "It is important to see our development team taking their first step towards a bigger audience and we are eager to see the progress over the next few months in Early Access."
Already endorsed by the steam community and greenlit on August 2015, Energy Heroes was also nominated for the game connection development award the same year.
Key Features:

Environment: The introductory 3V3 map (Stage375) is designed onboard of a spaceship and represents the training grounds for the game's characters Sprinkled with a mix of style elements from comic books and science fiction, the environment delivers contrasted colors and first-class graphics.
Characters: 3 different classes (Humans, Nelmas, Jorvaks) of playable characters, each one of them boasting their own skills and abilities, depending of their M-type (assault, auxiliary, protector, infiltrator). A total of 10 playable characters are introduced with the early access version.
Energium: Collecting Energium from the Energium trees enables teams to strategically reinforce the strength and abilities of their buildings.
Real time dynamic map morphing: Each team has the ability to change the lay out of the map on the fly by interacting with various elements in the environment.
A unique and original interface: Optimization of the information displayed on-screen to ensure the right balance of in-game data and gameplay.
Boundless match making system: Players can choose a character without time limit and pull out of a game before it has started without penalties.
Join the Early Access, the Facebook Community or follow the game on Twitter. A game-play trailer is available here and current press material can be found here.
##
About DSC Studio22
DSC Studio22 is a French game developer based in Bordeaux, France. The studio brings its expertise and passion for online games to its inaugural title, the online sci-fi third-person shooter, Energy Heroes. The team is dedicated to expand upon tactical and collaborative based gaming by delivering original game designs and innovative gameplay experiences.