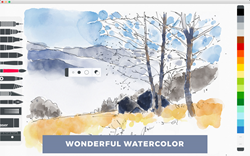 Paris, France (PRWEB) June 02, 2016
Tayasui, makers of the Apple "editor's choice" iOS drawing application Sketches, today launched Sketches Pro for Mac, available immediately on the Mac App store for $14.90. Sketches Pro for Mac is the most powerful version of Sketches to date and benefits from years of development and commitment to its community. Sketches Pro delivers an astonishing graphic design solution for Mac users. An ultra realistic tool set, powered by a brand new engine, ready to draw through a uniquely modern user interface. Sketches Pro for Mac is the definitive companion to digital artists craving to express their creativity in the most intuitive, fast and realistic way.
"Our community of artists have long been requesting and patiently waiting for a Mac version of Sketches, in order to continue working on their designs and drawings from the comfort of their desktop. This milestone in the Tayasui portfolio, previously iOS only, represents a very natural evolution and we're very proud of our first desktop app." said Tayasui CEO Yann Le Coroller.
Entirely designed with Wacom tablet users in mind, Sketches Pro for Mac delivers the most realistic digital drawing experience on the platform and is the result of more than 5 years of development, enhancement and fine-tuning of its exhaustive artist's toolbox. With Sketches, countless creators and designers have made dazzling sketches and superb illustrations.
Not only Sketches Pro for Mac benefits from the incredible engine refined for the iOS devices, it also inherits of the same DNA regarding design, with a slick and gorgeous user interface, at the same time very powerful yet ultra simple to use.
Tayasui is on track to, once again, offer the most comprehensive, versatile and user-friendly set of drawing features found in a drawing application, this time on the Mac.
Tayasui Sketche Pro Features:

Over 20 ultra realistic tools
Incredibly realistic watercolor wet brushes
Up to 12 Layers
Brushes Editor
Smart ruler
Pressure Stylus Support
A unique UI with a touch of Zen
Infinite undos
Color Eyedropper
For more information on Sketches Pro visit:
http://tayasui.com/sketches/
About Tayasui
Tayasui is a French independent mobile applications developer, focusing on delivering fun and creative solutions for both casual and professional graphic designers in need of innovative drawing tools, coupled with user-friendly interfaces. Since the successful launch of its first application Talking Carl, which was showcased in 2011 at the New York MoMA exhibition Talk to me, the Tayasui community keeps growing with more than 20 million downloads to date.