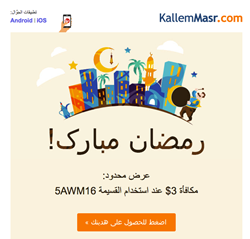 Very good service. The agent was polite, patient and walked me through all the steps to accomplish what I need it. (ماجده سامي)
Atlanta, Georgia (PRWEB) June 01, 2016
Expats of Egyptian origin are invited on KallemMasr.com, a website dedicated to them, to grab their $3 calling credit Bonus between June 2-4, 2016. The Bonus includes 40 minutes to call landlines in Egypt, or 28 minutes to mobiles there, or a mix. The calling credit Bonus applies on any order of minimum $20 Voice Credit, placed on KallemMasr.com until June 4th (USA time), using coupon code 5AWM16. Placing an order takes less than 1 minute on KallemMasr.com, and to open an account.
The $3 promotion before Ramadan addresses all Egyptian expats who need to keep in touch with their friends and relatives back home in Egypt. According to the 2007 MigrationsMap.net report, out of a population of over 90 million inhabitants, over 1,000,000 people had left Egypt in search of a new life in the USA, Germany, Italy, United Arab Emirates and other parts of the world.
KallemMasr.com is a service especially conceived for them. It includes Voice Credit for international calls and SMS and international top ups known as Mobile Recharge on the website: http://kallemmasr.com/buy/voice
The $3 Voice Credit Balance is added instantly in one's KallemMasr.com account, the same time with the minimum $20 order. The Bonus balance and the $20 amount never expire, and can be used to place long-distance calls whenever necessary, in 3 different ways:
-Calls can be made using access numbers, which is something similar with the calling cards, except that there is no need to run to the store, and the price is lower. No Internet is needed.
-Calls can be made from KeepCalling app, that is available for iOS and Android and costs nothing to install.
-Calls can be made from PC to any phone in the world using the Web Call app, which is a desktop tool, available by default in one's KallemMasr.com account, online.
Whatever the calling method one chooses, Voice Credit can be bought anytime online on KallemMasr.com. First, one needs to register on the website with no extra cost. The regular rates to call Egypt is 7.9¢/min for calls to landlines and 10.9¢/min for calls to mobiles.
The account on KallemMasr.com comes with a number of other advantages:
-There are 4 free features that can optimise a call.
-Customers have direct access to calling records.
-All transactions and invoices are available online.
-Any transaction (Voice Credit or Mobile Recharge) brings Thank You points automatically; these points can be easily converted into calling credit once they amount to 1000.
-Several payment methods are available for different types of customers: all major cards and PayPal.
-The account is mobile-friendly, just like the rest of the website, so anyone can access it on the go.
-Payment is welcome in any currency.
KallemMasr.com is an interactive website designed by KeepCalling, a global telecommunications company registered in 2002 in USA. Presently, KeepCalling provides its services to hundreds of thousands of consumers and businesses, with a focus on customer satisfaction. KeepCalling has been listed by Inc 5000 as one of the fastest growing companies in the USA for 5 consecutive years. In 2015 the company registered a revenue increase of over 200% from 2011 to 2014.