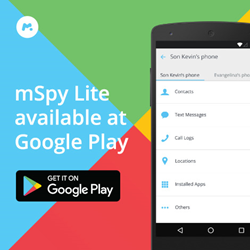 (PRWEB) June 24, 2016
mSpy Lite was created to improve user experience. Parents now can download mSpy Lite directly from Google Play and install it on their children's devices. mSpy Lite involves a visible icon on child's device. Thus, children will know that you have installed a mobile phone tracker on their devices. Installation of mSpy Lite is free. After installation parents can choose a monthly subscription plan. mSpy Lite is free for those who have any active mSpy subscription.
mSpy Lite offers contacts, sms, call logs, GPS location and installed apps monitoring.
Actually, mSpy Lite provides all necessary features that safeguard modern children in most situations. It is one of the best ways today to really acknowledge any child's interests and concerns. GPS tracking helps parents to know if their children are in the wrong or dangerous neighborhood. Real time SMS logs tracking and call logs monitoring help to prevent cyber-bullying. Monitoring of the contact list will help to find out who children communicate with.
Currently mSpy operates on all popular mobile and desktop platforms and plans to continue developing applications to meet any kind of future demands. mSpy is constantly evolving and adds one new feature once a month on the average. Google Hangouts has been added recently and now mSpy presents mSpy Lite to give its customers even higher level of comfort and protection.
mSpy also announces a short-term release of the new application for iOS on App Store.
Download https://app.adjust.com/x5jr91 and check the new application by mSpy.
ABOUT MSPY
mSpy specializes in customized and user-friendly mobile & computer monitoring solutions, by utilizing the latest innovations in monitoring technologies. mSpy goal is to deliver the fastest and most secure solutions that suits most demanding parental and corporate needs and brings guaranteed results at an affordable price.