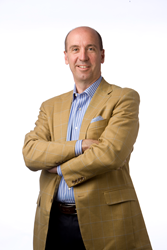 By looking to the past, and unlearning obsolete knowledge, organizations will be better able to harness the tools and build the solutions necessary to create the future workplace.
Phoenix, AZ (PRWEB) June 07, 2016
When Winston Churchill said, "The farther back you can look, the farther forward you are likely to see," he was implying that a well-examined history will provide better insights into understanding the forces which are trying to shape the future.
Global futurist Jack Uldrich takes that concept and pairs it with unlearning to help organizations prepare for their future in quickly changing the world. He will be presenting his keynote, "The Future Requires Unlearning," to the 2016 Honeywell Users Group (HUG) Symposium on June 9 in Phoenix, AZ.
When it comes to unlearning Uldrich is an expert. He is the founder of The School of Unlearning, an international leadership, change management, and technology consultancy dedicated to helping businesses, governments, and nonprofit organizations prepare for and profit from periods of profound transformation.
According to Uldrich, "New advances in technology bring forth exciting discoveries every day. But often lost in this new reality is the fact that organizations must unlearn old, obsolete knowledge and old ways of doing business before they can seize tomorrow's opportunities."
Uldrich has addressed Fortune 100 corporations, venture capital firms, associations, not-for-profit organizations and state and regional governments on five continents. His client list includes the National Association of Manufacturers, Emerson, Trane, Siemens, Eaton, PMMI, ABB/Thomas & Betts, among others.
Parties interested in learning more about this event, his books, his daily blog or his speaking availability are encouraged to visit his website.