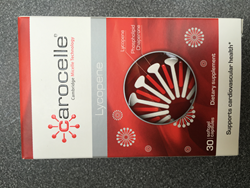 new lycopene product, specifically created for the ageing population and for people with metabolic syndrome and fatty liver, is now available on the market
Cambridge UK (PRWEB UK) 30 May 2016
Dr Ivan Petyaev of Lycotec Ltd is proud to announce that a brand new lycopene product, specifically created for the ageing population and for people with metabolic syndrome and fatty liver, is now available on the market.
Ateronon, the Cambridge 'tomato pill', a lycopene formulation which inhibits blood lipid oxidation, the key process behind clogging up of the arteries in atherosclerosis, was invented and patented by Dr Petyaev:
https://www.google.com/patents/WO2003019196A2?cl=en
An independent, randomized, double blind, placebo controlled clinical trial conducted by the University of Cambridge and Addenbrooke's Hospital, with support from the Welcome Trust and the British Heart Association, demonstrated that Ateronon supplementation resulted in a 53% improvement of the vascular forearm blood flow in people who had already impaired function.
http://journals.plos.org/plosone/article?id=10.1371/journal.pone.0099070
Lycopene, an essential micronutrient in the human diet, is present in tomatoes, watermelon and some other red pigment fruits.
It is not only one of the strongest antioxidants in our body but it also plays an important role in supporting tissue oxygen supply /respiration and mitochondria energy production.
With age, however, when people reach 50-60 years and over, their ability to process already ingested and even absorbed lycopene is reduced. This is accompanied by the development of age-associated pathological events, even on a 'micro' level, such as a gradual build up of subclinical oxidative damage and subclinical hypoxia across most of the organs and tissues, with the loss of skeletal muscle and its functions.
Another group of the population with impaired lycopene processing ability are people with metabolic syndrome, fatty liver and obesity.
A further reason why the level of lycopene could be lowered in the body, despite sufficient dietary intake and processing, is its accelerated depletion. This typically occurs during the development of chronic pathologies such as cardiovascular disease, diabetes, arthritis, cancer, etc.
These lycopene deficiencies and depletions, which are widespread in the ageing population, were described in a recent review by Dr Petyaev: http://www.ncbi.nlm.nih.gov/pubmed/26881023
and also presented last week at the international Gordon Research Conference on Carotenoids.
In an attempt to expand the success of his first product and to create a new generation of not only lycopene, but also some other dietary supplements specifically designed for people over 50 years with impaired and/or fatty liver, it was necessary to find a new solution.
To this end Dr Petyaev created a new R&D company Lycotec, which is based in Cambridge UK.
http://www.lycotec.com
After more years of research and clinical studies, the company has developed a brand new technology, which, among other innovations, includes involvement of chaperone molecules essential for lycopene processing in the liver and its further transportation to other organs.
This new generation of lycopene was tested in clinic on target population groups. Studies showed superior efficacy of this new product, not only over Ateronon, but also over other world leading lycopene brands, none of which were developed for people with impairment in processing this molecule.
The new lycopene product is now on the market under two brand names.
The first is 'Carocelle Lycopene' available worldwide from Cambridge Micelle Technology Ltd.http://www.carocelle-technology.com/en/lycopene
The second is 'MedVital Bio-Lycopene'available from MedVital Inc and across US in GNC
http://www.gnc.com/F1RST-MedVital-Bio-Lycopene/product.jsp?productId=74219596