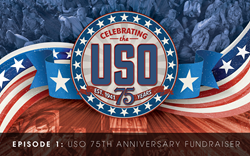 (PRWEB) May 31, 2016
Over the years, countless musicians, comedians and actors have toured the USO in support of our troops to bring them a little taste of home and entertainment to celebrate them for their service. A new listener supported online radio station Love Lane Radio dedicates its first episode to the USO and launches a timeless highlight of countless music favorites our troops have played throughout the years.
In concert with Memorial Day, Military Appreciation Month, the 5th Anniversary of the Joining Forces initiative, and the 75th Anniversary of the USO (United Service Organizations) Love Lane Radio has launched its first Episode. Their inaugural musical show is a USO fundraiser which honors American military service members, their families, and all who work or volunteer for the USO.
Going forward, Love Lane Radio will feature timeless songs of love and appreciation for sweethearts, family, friends and our communities. Ongoing, themed shows will include favorite American musical hits from the past century. LoveLane Radio will be listener-supported and commercial-free, with proceeds going towards expanding the listener base and supporting a variety of nonprofit organizations.