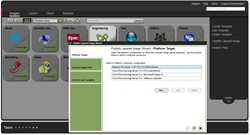 It is an honor to be named as one of the 'Best of Citrix Synergy 2016' award winners.
Marlborough, MA (PRWEB) June 01, 2016
Unidesk Corporation announced today it won a Best of Citrix Synergy 2016 award at the annual Citrix Synergy conference in Las Vegas. Unidesk was a winner in the New Technology category for its redesigned application management solution that now spans Citrix XenApp, VDI, and the cloud. With the new Unidesk® 4, IT organizations can radically reduce image management costs for Citrix XenApp and XenDesktop, extend XenApp to deliver departmental and personal applications on a per user basis to maximize Citrix investments, and accelerate moving Windows desktop apps to the cloud.
An independent team of judges consisting of experts and editors from SearchVirtualDesktop.com reviewed and evaluated the products based on innovation, value, performance, reliability, and ease of use.
Unidesk stood out for its unique technology that packages every component of a Windows workspace - even the OS itself - as a virtual disk container, or "layer." Once apps are layered with an ordinary installation, they can be delivered to any number of virtual desktops or individual XenApp sessions without further installations. This innovative approach is compatible with more applications than any other application virtualization technology, leverages existing technologies such as Citrix Provisioning Services, and enables apps to be packaged once and delivered to any platform on-premises or in the cloud.
The judges remarked that Unidesk completely rebuilt its platform so it works with on-premises platforms and Microsoft Azure, and that being able to deploy virtual machines composed of layers to any platform is a unique and valuable feature. Unidesk is the only Azure-certified application management solution available in the Azure Marketplace.
"It is an honor to be named a 'Best of Citrix Synergy 2016' award winner," said Tom Rose, Unidesk Chief Marketing Officer. "We are grateful for the positive response and advocacy from Citrix customers and partners to our new, re-architected Unidesk platform. This award validates how Unidesk is redefining application management by driving operational cost out of existing Citrix XenApp and VDI environments, extending these modern Windows workspaces to more apps and more users, and giving agile enterprises an easy path to the cloud."
About Unidesk
Unidesk is the leader in application management software for the next-generation Windows workspace. With Unidesk, IT organizations manage applications once across virtual desktops, shared hosted desktops, and published applications with unequaled packaging simplicity and full application compatibility. Unidesk's open management solution supports all virtualization platforms including Microsoft Hyper-V and VMware vSphere; supports leading cloud platforms such as Microsoft Azure; and integrates with leading end user computing solutions including Citrix XenApp/XenDesktop, Microsoft VDI/RDSH and VMware Horizon. Unidesk is a privately held company headquartered in Marlborough, Mass., with 1,400 customers and solution partners around the world. Visit http://www.unidesk.com to learn more.
About SearchVirtualDesktop.com
SearchVirtualDesktop.com is the premier source for information on desktop virtualization, application virtualization, and VDI. The site provides in-depth technical advice and information on the products, services and business strategies that can lead to successful implementations of desktop virtualization technologies in your organization. Access unbiased news analysis, a library of essential tips, informative learning guides, white papers and more -- all created in an effort to arm you with the tools and tactics you need to do your job successfully and make the right desktop virtualization technology decisions.
About TechTarget
TechTarget is the online intersection of serious technology buyers, targeted technical content and technology providers worldwide. Our extensive network of online and social media, powered by TechTarget's Activity Intelligence™ platform, redefines how technology marketers view and engage technology buyers based on their active projects, specific technical priorities and business needs. With more than 120 technology-specific websites and a wide selection of custom advertising, branding, lead generation, and sales enablement solutions, TechTarget delivers unparalleled reach and innovative opportunities to drive technology marketing success around the world.