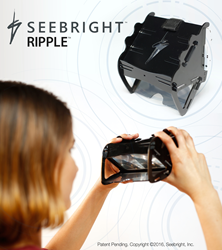 Making see-through displays affordable is the best way to accelerate development and spark creativity.
Santa Clara, CA (PRWEB) June 01, 2016
Seebright has launched the first handheld augmented reality (AR) viewer. The Seebright Ripple creates a wide field-of-view, see-through display powered by today's most popular iOS and Android smartphones. Seebright is demonstrating and distributing the Ripple to developers and pioneering users at the Augmented Reality World Expo in Santa Clara, CA.
The Seebright Ripple brings a number of firsts to see-through augmented reality. The forward orientation of the smartphone's camera enables groundbreaking computer vision and AR applications. The handheld stereoscopic display provides a wide 56° field-of-view and a 9' focus distance for comfortable and immersive viewing. The handheld design is easy to pick up and easy to pass among colleagues, classmates and friends.
The Seebright Ripple is being introduced as a laser-cut and user-assembled limited edition available now at http://www.seebright.com online for $39.99. It will be followed by additional models and by Seebright's smartphone-based head mounted display, the Seebright Wave.
"Making see-through displays affordable is the best way to accelerate development and spark creativity," said Dirk Kanngiesser, CEO of Seebright. "We created the Seebright Ripple to put augmented reality in the hands of the thousands of developers and pioneering users overnight."
Seebright's free and soon open-source core SDK supports plugins for Unity3d and the Unreal Engine and includes a display emulator for accelerated development. The Seebright Ripple works well with industry standard computer vision platforms such as Vuforia and Google Tango, as well as widely available IR and depth sensing cameras such as Leap Motion and Occipital's Structure Sensor. The Seebright SDK and emulator are now available on the Seebright developer portal at http://www.seebright.com/developers online.
ABOUT SEEBRIGHT
Seebright makes augmented reality available to everyone. We develop affordable, wide field of view display systems for gaming, visualization, education and industry. Seebright empowers developers by supporting today's iOS and Android platforms and by distributing an open-source core SDK. Seebright's offices are located in Santa Cruz and Palo Alto, California. Visit seebright.com or follow Seebright on Facebook (facebook.com/seebrightR), Twitter (@seebrightR) or YouTube (YouTube.com/seebrightR).