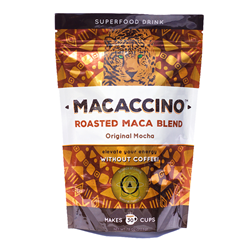 Macaccino, a gourmet coffee alternative, uses a 100% organic blend of roasted maca and other super food ingredients to create a delicious beverage with the same flavor profile of coffee and hot chocolate but without the jitters and crashes of coffee.
NEW YORK, New York (PRWEB) June 07, 2016
SOL Natural Foods introduces their delicious Macaccino energy blends at the Summer Fancy Food Show at the Jacob Javits Center, in the New Brands Pavilion from June 26-28, 2016.
Macaccino, a gourmet coffee alternative, uses a 100% organic blend of roasted maca, cocoa, mesquite powder, nutmeg, and cinnamon to create a delicious beverage with the same flavor profile of coffee and hot chocolate, but without the jitters and crashes of caffeine- and sugar-heavy coffee.
Macaccino was created at the Golden Mean Café in Santa Monica, California, not as a purposeful coffee alternative, but as an exploration of the delicious flavor of roasted maca and its versatility in cooking. The drink quickly became the best seller at the restaurant (six years running) and, after enough customer requests, it was obvious that it was time to bring Macaccino to the nation. Since its debut in March of 2016, Macaccino has become the #1 New Product Category Bestseller, out-performing product offerings from Starbucks, Nescafe, Teeccino, and others. Along the way, celebrity chefs, media personalities, supermodels, and health and fitness gurus have all joined the campaign to bring Macaccino to the gourmet and natural products arena.
This year, SOL Natural Foods' founder Aaron Glassman and his team will be sampling this delectable beverage served in the traditional style of the Peruvian culture. Each Macaccino is 100% gluten-free, sugar-free, organic, non-gmo, nut-free, dairy-free. All ingredients are free of growth chemicals and pesticides. It's a perfect solution for those who want to cut back on coffee consumption, those who cannot have coffee due to acid reflux, and those who love the favor and dynamics of the nutritious maca root.
"It's really an honor to go to New York and share our delicious blends with buyers and interested parties at the Fancy Food Show," says Glassman. "We're very excited about the category-changing potential of Macaccino, and we're honored to bring our much-loved Macaccinos to the East Coast for the first time."
ABOUT SOL NATURAL FOODS
SOL Natural Foods is the founding company behind the award-winning Golden Mean Café in Santa Monica, CA, and the company responsible for the creation and development of Macaccino. SOL Natural Foods represents founder Aaron Glassman's desire to create products that are good for both the body and the soul and produced with a limited energy footprint. SOL donates a portion of each sale to one of several charities that help improve our planet for generations to come. Media inquiries should be directed to Terrill(at)TheDinesGroup(dot)com. To learn more about SOL Natural Foods and Macaccino, visit https://solnaturalfoods.com.
ABOUT THE SUMMER FANCY FOOD SHOW
The Summer Fancy Food Show in New York is shaping up to be the largest in its 62-year history, with more of the latest specialty foods and beverages to discover than ever before. The show takes place Jun. 26 – 28, 2016, at Jacob Javits Center.
ABOUT THE SPECIALTY FOOD ASSOCIATION
The Specialty Food Association is a thriving community of food artisans, importers and entrepreneurs. Established in 1952 in New York, the not-for-profit trade association provides its 3,300+ members in the U.S. and abroad with resources, knowledge and connections to champion and nurture their companies in an always-evolving marketplace. The Association owns and produces the Winter and Summer Fancy Food Shows, and presents the sofi™ Awards honoring excellence in specialty food. Learn moreat specialtyfood.com.