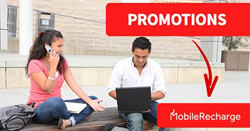 I've recently learned about MobileRecharge and used it to transfer some credit to my adopted son in Senegal. It's easy to use, a smooth operation. No doubt I will return. (Anja Elisabeth on Trustpilot.com)
Atlanta, Georgia (PRWEB) June 02, 2016
A new promotion is launched for the diaspora worldwide. On June 2, 2016, everyone who sends mobile credit on MobileRecharge.com to mobiles of friends or relatives back home gets a 5% discount automatically. The airtime value has no relevance. The discount applies if one uses coupon code TXP5UP when placing an order on MobileRecharge.com on June 2. Online top ups are favoured by many because they are easy to make. One can use the app called MobileRecharge or can send the top up directly on the website in a few seconds: http://mobilerecharge.com/
The 5% OFF promotion includes top ups to any destination available on MobileRecharge.com. It is a good way to save on international mobile credit transfers. Actually, discounts are not frequent for such goods as mobile credit top ups.
The top up may be a gift for Ramadan, a birthday present or a regular support for one's parent, cousin, wife or friend. The 5% discount applies only if one places a top up order precisely on June 2, 2016, until 23:59 USA Eastern time. A person can only use the coupon once to get the discount, which means that if one needs to place several top ups on June 2, the coupon should wisely be used for the order that has the highest value. The top up process takes less than 1 minute, and the discount applies instantly.
Many expats prefer this top up service for at least 3 good reasons:

They save time with the online order. They don't have to walk to the store to make the recharge, they can do it on the go using the MobileRecharge app, or from the PC or tablet on MobileRecharge.com.
Mobile top ups are considered an economic alternative to money transfers; they are instant (instead of taking 1-2 days), and the processing fee is 10 times lower.
Many expats prefer it, because such top ups give the sender the chance to control how the "money" sent home is used.
MobileRecharge.com is the service that emphasised publicly the generosity of top up givers worldwide. On November 10, 2015, the brand launched World top Up Day for the first time in history. November 10 is now dedicated to top up givers worldwide, as a less visible category of givers.
The condition to benefit of the current promotion of 5% OFF is to have a free account on MobileRecharge.com. Actually, there are daily promotions on MobileRecharge.com that offer up to 700% Bonus for different countries and operators on specific amounts. They are advertised on the website, in the menu section called "Promotions" or on Twitter, Google+ and Facebook page: https://www.facebook.com/MobileRecharge.Fan/
The account on MobileRecharge.com comes with a number of other advantages:

All transactions and invoices are available in a special section in chronological order.
Promotions page centralises daily deals.
One can be notified by email about offers.
Several payment methods are available for different types of customers: all major cards as well as PayPal.
The account is mobile-friendly, just like the rest of the website, so anyone can access it on the go.
Payment is welcome in any currency.
The account is available in several languages.
Safety is certified by the labels present on the website: "Verified & certified", Trustee, etc.
The website is available in several languages: English, Spanish, German, French and Italian.
All fans meet on Facebook, G+ and Twitter to stay updated with promotions, contests or other events.
Customer Service is seen as highly supportive; it is available 24/7 in both Spanish and English, and other international languages.
Both the MobileRecharge app and the website allow experienced and inexperienced users to make a top up the easiest way possible.
Video tutorials are available on YouTube and the website to support expats worldwide: https://www.youtube.com/MobileRecharge
Expats, American citizens and travellers have now the possibility to top up their mobiles online with MobileRecharge.com and save on their international airtime with the 5% discount on June 2, 2016. The two conditions to benefit from the discounted top up on June 2, 2016, is to register with MobileRecharge.com and to use coupon code TXP5UP when making the mobile credit transfer that day.
MobileRecharge.com serves people who left their motherland and moved in a new country for a better life, as well as travellers or professionals who live abroad temporarily. Just to have an idea, there are 50.5 million expats worldwide according to several reports, and the figure is expected to reach 56.8 million by 2017, which is 0.77 percent of the total global population.
MobileRecharge.com is an interactive website designed by KeepCalling, a global telecommunications company registered in 2002 in the USA. Presently, KeepCalling provides its services to hundreds of thousands of consumers and businesses, with a focus on customer satisfaction. KeepCalling has been listed by Inc 5000 as one of the fastest growing companies in the USA for 5 consecutive years. In 2015 the company registered a revenue increase of over 200% from 2011 to 2014.