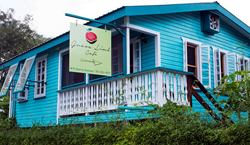 That combination of talent, fresh ingredients, creativity and enthusiasm has obviously added up to something special that diners appreciate.
San Ignacio, Belize (PRWEB) June 02, 2016
The Guava Limb Café, The Lodge at Chaa Creek's award winning San Ignacio bistro, has recently been acknowledged with a "Certificate of Excellence" from the world's largest travel site. And, coming on the heels of a similar TripAdvisor award for the popular Belizean eco-resort itself, represents a "double dip" of positive reviews from global travellers, according to Chaa Creek's owners.
Lucy Fleming, who with her husband Mick started Chaa Creek as a small family farm in the 1970s, said hearing from TripAdvisor so soon after the eco-resort's acknowledgement was heartening for management and staff.
"It's a great nod of approval that now extends to both our eco-resort and our presence in town, which caters to the local community as well as travellers. That's what makes this award so gratifying," Ms Fleming said.
The Flemings opened the Guava Limb Café in San Ignacio Town in August, 2013, and since then it has attracted a growing clientele of local diners and travellers, leading it to be awarded "2015 Restaurant of the Year" by the Belize Tourism Board, and featured in a January 2015 Travel Channel piece, "Where Foodies Should Go in Belize," Ms Fleming said.
She added that positive word of mouth drove the café's early success.
"We never did much in the way of advertising or promotion, preferring to start out slowly to see how it grew. We've been fortunate in many respects; having the traditional Maya organic farm at Chaa Creek to supply the resort's Mariposa restaurant and the Guava Limb Café with fresh ingredients for true farm-to-table dining, as well as a team of enthusiastic cooks and front of house staff who were dedicated to making it a success.
"Then, last year, we engaged the services and enormous talent of Chef Edward Mendoza, owner of Cucina 503 in Augusta, Georgia and who has a very impressive resume and international reputation. Chef Mendoza agreed to mentor our cooks and share ideas on how to make the most of our fresh organic produce and Belizean Caribbean seafood. He was like a kid in a candy shop with so much to work with, and the enthusiasm he generated has stayed with our kitchens today.
"That combination of talent, fresh ingredients, creativity and enthusiasm has obviously added up to something special that diners appreciate with overwhelmingly favourable comments," Ms Fleming said.
TripAdvisor is billed as the world's largest travel site, with some 350 million monthly users reviewing six and a half million hospitality establishments in 48 countries. Certificates of Excellence are based on reviews submitted by travellers over the course of a year, and are awarded to businesses that have maintained, from a minimum number of reviews, an "excellent" overall rating of at least four out of five, according to TripAdvisor's website, which also states that "With the Certificate of Excellence, TripAdvisor honours hospitality businesses that have consistently received strong praise and ratings from travellers. This recognition helps travellers identify and book properties that regularly deliver great service."
This is the second year in a row that the Guava Limb Café has received a Certificate of Excellence, Ms Fleming noted.
"It shows an ongoing commitment to quality and excellence on the part of the Guava Limb Café's entire staff, and that's something Mick and I are very proud of. These are predominantly young Belizeans who took on the challenge of opening a new kind of restaurant in San Ignacio Town and, with commitment, enthusiasm and creativity excelled. To be awarded the title of "Belize's Best Restaurant of 2015" out of so many other established restaurants in Belize City, Ambergris Caye and other popular Caribbean locations, and considering the competition from upscale resorts and hotels throughout Belize; that's really an achievement.
"And to once again receive a Certificate of Excellence from TripAdvisor travellers shows that quality and service are firmly embedded in our staff's culture.
"It's something our local diners and international visitors recognise and appreciate, and that we'll continually strive to maintain," Ms Fleming said.
The Guava Limb Café, located near a riverside park in San Ignacio Town in Belize's Cayo District, is part of The Lodge at Chaa Creek, a multi award winning eco resort set within a 400-acre private nature reserve along the banks of the Macal River in Belize.
ENDS