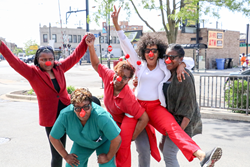 Skokie, Il (PRWEB) June 01, 2016
Villa Healthcare, a leading provider of post-hospital care, is dedicated to giving back to our communities around the country. In a continuance of that promise, all twenty three skilled nursing rehabilitation centers and assisted living facilities participated in "Red Nose Day" on May 26th, 2016.
Red Nose Day is a campaign dedicated to helping children and having fun. The money raised is used to help children in poverty. Proceeds benefit children and young people in the United States and some of the poorest communities in the world.
At Villa Healthcare, their most important core value is "Making People Better". This value is not just in reference to their guests that come for their award winning rehabilitation services, luxurious accommodations and robust clinical programs. The concept of "Making People Better" most certainly applies to the betterment of their over 3,000 employees as well as the communities they serve directly, and our society as a whole.
"Our children are the most vulnerable and innocent part of our population. It's not difficult rallying and bringing attention to them in a meaningful way. Red Nose Day does just that" said Mark Berger, CEO of Villa Healthcare.
From short-term rehabilitation to long-term care, Villa Healthcare has near-perfect patient satisfaction scores, five-star care ratings and hospital readmission rates far lower than state and national averages. Villa Healthcare has taken its Exceptional Care, Unexpected Luxury and Passionate Service standards to locations throughout Illinois, Wisconsin, Minnesota and Michigan.