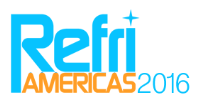 Quality Tools That Go To Work WIth You®
Panama City, Panama (PRWEB) May 31, 2016
Uniweld, amongst the most recognized companies in the sector of air conditioning and refrigeration, will be present during the two day fair. Uniweld will display their full range of HVACR tools which include refrigeration manifolds, gauges, hoses, vacuum pumps, brazing equipment, hand held brazing torches, tubing tools and nitrogen equipment, along with other related accessories for the industry at the RefriAmericas Tradeshow in Panama City, Panama.
Visitors at the Uniweld stand will be greeted by Mario Portillo, International - Sales Executive, and Richard Apodaca, Director – International, whom will present Uniweld's innovative products. In this exhibition, attendees will be introduced to international experts for purposes of strengthening their knowledge on the latest trends and best practices in the HVAC / R industry.
One of Uniweld's biggest show pieces and contemporary products will be their new SmarTech™ Digital Manifold (Part # USMAN5). The SmarTech™ Digital Manifold combines the quality and superior craftsmanship of Uniweld manufacturing with the technology of your Android or iOS device. Using Bluetooth connectivity, the SmarTech™ Digital Manifold easily pairs with a smart device through the free SmarTech™ app. Stop by Uniweld's booth #605 for a detailed explanation.
Additional activities at Uniweld's booth will be experiencing the EZ Turn™ Challenge. The demo stand is appropriately labeled "Take the EZ Turn™ Challenge!" as it gives technicians an opportunity to try their favorite hose from their truck and compare it to the EZ Turn's new technology. Uniweld's NV1 NitroVue™ will be featured again at this year's show, with live demonstration, exemplifying as a tool that simplifies nitrogen purging during the brazing process. It is critical to flow nitrogen when brazing to displace the oxygen from inside the copper tubes in order to prevent internal oxidation and the formation of black scale.
Uniweld Products, Inc. has proudly manufactured quality HVAC & R tools and welding and cutting equipment at its factory located in Fort Lauderdale, Florida U.S.A. since 1949. Be sure to be on the lookout for Uniweld Products, at RefriAmericas, where they will be showing their "Quality Tools That Go To Work With You."