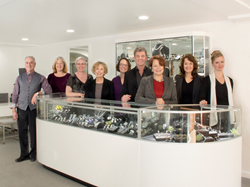 San Francisco, CA (PRWEB) June 01, 2016
Union Street Goldsmith will be hosting the biggest sale they've ever had. From June 18-30 at the Union Street location, the entire store will be 25 percent off (excluding diamonds that are more than 0.50 carats).
This sale is in celebration of their 40 years of success and serves as a thank-you to all of those who have given them these four decades of achievement. To thank their customers, the store is featuring 25 percent off of all their jewelry (excluding diamonds that are more than 0.50 carats).
After the fire last year, Union Street Goldsmith picked up and moved to its new location. Between the fire and the tragedy of the loss of their owner, the store finds this anniversary to be the perfect time to celebrate their survival and success, all with thanks to their loyal customers.
In the store for sale, classic Union Street Goldsmith designs can be found as well as stylish, new cutting-edge jewelry by designers like Kurtulan & Like Behar, all at 25 percent off.
With such a beautiful selection of colored gemstones, including fine sapphires in different colors, tourmalines, rubies, aquamarine, garnet and more, Union Street has a piece perfect for any occasion, style and personality. They even feature a great wedding band selection — known to be one of the best in town!
The sale features all items in the store at 25 percent off, excluding diamonds exceeding 0.50 carats and any custom-made or special-order jewelry pieces. To learn more about the sale running from June 18-30, give the store a call today or drop by to their new location at 2118 Union St. in San Francisco.
About Union Street Goldsmith:
Union Street Goldsmith has been a San Francisco landmark for 40 years, offering excellent quality and creative jewelry. This special shop with its friendly staff is welcoming and unpretentious. The Union St. staff consists of six GIA gemologists, who are able to help shoppers in a variety of ways when it comes to gems and jewelry. Union Street Goldsmith is known for amazing jewelry designs, fine colored gemstones, and unique engagement and wedding rings. An excellent sense of style and fashion gives Union Street the ability to offer valuable guidance to clients in their jewelry selection, helping each one to create an overall special look within their collection.